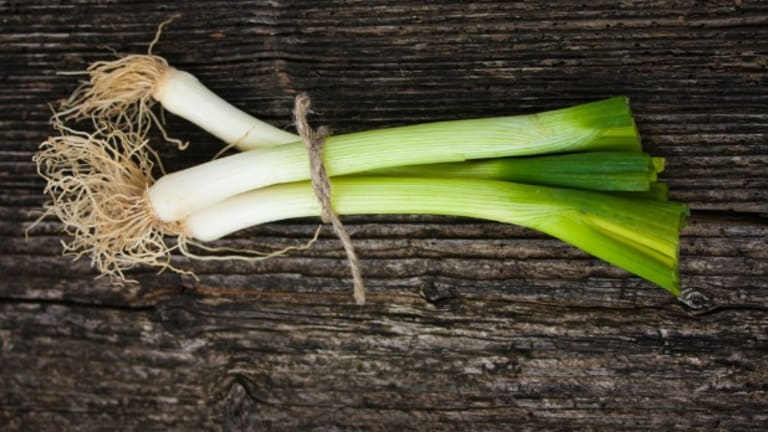 Why You Should Add Leeks To Your Rosh Hashanah Menu
Everyone knows that Rosh Hashanah is apples and honey time. But there's a growing tradition to include other symbolic foods on the menu during the High Holiday season -- foods that evoke our wishes for G-d to bless and protect us in the year ahead.
Leeks for instance.
Why leeks? Because the ancient Aramaic word for leeks (karsi) sounds like yikarsu, the word for "cut off" or destroy. In the prayer we say after eating leeks we ask for protection against our enemies, that they be "cut off" from us in the year ahead.
Leeks seem particularly significant this troubled, violent year.
And so, with hopes that this coming year will be a fortunate and peaceful one for Jews everywhere, our family will be eating leeks in some form or another at Rosh Hashanah.
Actually, we all love leeks, which are in the onion family, and I cook with them often. Unlike onions though, which I think of as a "seasoning" to add flavor to stocks, soups and sautéed food, I regard leeks as more of a vegetable. I always serve braised leeks at Passover. In the summer I char leeks on my outdoor grill. I make hot soup with leeks in winter, cold soup when the weather turns. I use them in omelets. Serve them as a side dish throughout the year. Mix them with potatoes for my Hanukkah latkes.
Enjoy all these different ways to try leeks this year. 
One dish that I know will be on my Rosh Hashanah menu is Imam Bayeldi, a Turkish specialty made of braised leeks, eggplant and tomatoes. It tastes wonderful and you can make it ahead and eat it hot, cool or at room temperature. I have even used the leftovers for sandwiches (either with feta cheese or grilled meat).
5-Ingredient Leek and Potato Soup
During the holidays I will also serve my easy 5-Ingredient Leek and Potato soup (one of the 5 ingredients is water!), which can be varied so many different ways that my family likes to guess what I've thrown into the pot. This soup can also easily go from pareve to dairy to meat.
Chicken with Leeks, Parsnips and Mushrooms
Finally, there is sure to be a family favorite, Chicken with Leeks, Parsnips and Mushrooms, another simple, colorful, nourishing and delicious make-ahead entrée.
Roasted Potato Leek Soup with Onion Haystack
Spicy Sauteed Leeks and Spinach
Pesto Polenta with Frazzled Leeks
Salmon Teriyaki with Leek Panko Bread Crumbs
Leek and Mushroom Chicken with Spaghetti Squash