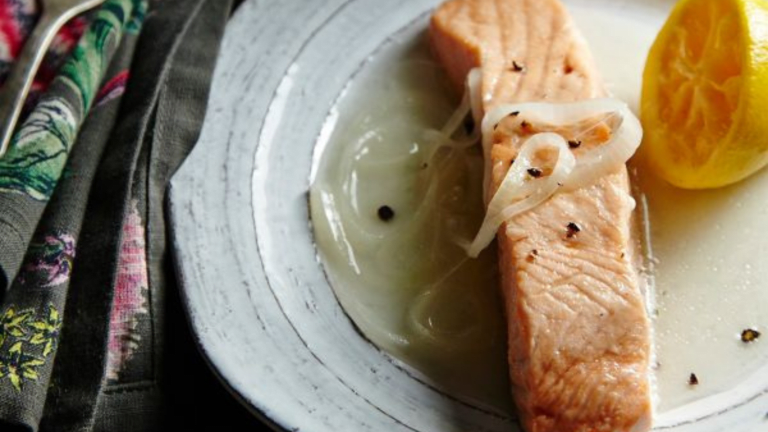 Yom Kippur Break-fast - 8 Changes For a Budget-Friendly, Do-Ahead Meal
In our home, the Yom Kippur break-fast is one of the most fun events to host. Not only are guests famished (which means they'll appreciate anything!) but I am forced to be organized because there isn't an opportunity to prepare the meal until after Havdala. Before the fast, food is placed on platters so that when Yom Kippur is over, all we have to do is transfer them to the buffet table or heat in the oven.
Since everything has to be done in advance, being organized allows me to streamline costs as much as possible. If you want to cut your expenses try these 8 tried-and-true tips.
These ideas are best when serving many guests, but even if you have a small crowd of just your family this year, budget tips can come in handy. 
1. Buy frozen salmon … not fresh
Tilapia and salmon are two of a handful of fish that freeze well. Quality won't be compromised, so save money by heading to the freezer section where frozen fillets can be less than half the price of fresh fish.
Savings: $8
Bonus Budget Tip: Poached salmon is a perfect make-ahead entrée. Poach the salmon a day before the fast, place on a lettuce-covered serving platter, garnish with sliced cucumbers and lemon wedges and store in the fridge until it's time to place on the buffet.
2. Make arrabbiata … not baked ziti
While baked ziti is a crowd-pleasing entrée, buying a lot of dairy items like ricotta, shredded mozzarella and parmesan cheese adds up. Instead, make dairy-free pasta. Arrabbiata, a simple, delicious Italian sauce is constructed from inexpensive ingredients: canned diced tomatoes, tomato paste, brown sugar, garlic, and basil. It's so heavenly, guests won't miss the cheese. 
The arrabiatta can actually be made a day in advance. Generously drizzle with olive oil as you reheat the pasta.
Savings: $12.28
Bonus Budget Tip: If you want to enhance your pasta with cheese, keep it simple by passing a bowl of grated parmesan for guests to add as they please.
3. Serve your own fruit … not a catered fruit platter
While splurging on pre-cut fruit from the prepared section of your local kosher market seems like a well-deserved treat after a long fast, think ahead and purchase whole seasonal fruit. Since a catered platter would sit in the fridge overnight, prepare your fruit a day in advance, cover with plastic wrap and refrigerate. This way, after the fast, all you have to do is take it from the fridge to the table.
Savings: $19.98
Bonus Budget Tip: Keep costs down by offering one type of fruit that's on sale such as a big bowl of cut melon or a platter of grapes.
4. Set up a smoothie bar … not a drinks station
Instead of buying soda and sugar-laden juices, bring out the blender to shake things up. Create a smoothie station by offering guests frozen chunks of fruit (either purchased from the freezer section or buy fresh fruit, like bananas, and freeze in advance), a liquid such as yogurt or milk, blender and glasses. You'll keep the costs down by not buying drinks and everyone will be treated to refreshing and nutritious energy-packed smoothies.
Before the fast, make sure the fruit is chopped and stored in the freezer. After Yom Kippur, very slightly defrost the fruit in the microwave (this prevents the smoothie from being too thick). You can set up a "bar" with blenders and glasses ahead of time, so all you have to do is lay out the bowls of frozen fruit, yogurt and milk.
Savings: $12
Bonus Budget Tip: Ask friends to bring a bag of frozen fruit.
5. Serve homemade tuna and pasta salad … not catered smoked fish platters or prepared seafood salads
Leave prepared seafood for people who don't own a can-opener, or for those who prefer spending $75 on a smoked fish platter. Instead, transform humble cans of tuna into creative salads.
The beauty of tuna fish is that it lends itself to many flavor profiles. Expecting a crowd? Prepare an assortment of creative combinations like tuna and chickpeas with dill, curried tuna with fruit, or an Asian-inspired tuna salad with roasted cashews and sesame. Find 10 Tantalizing Tuna Recipes here. 
Savings: $27
Bonus Budget Tip: Minimize costs even more by purchasing cans of tuna in bulk.
6. Serve homemade flavored cream cheese …. not containers of flavored cream cheese from the bagel store
Making flavored cream cheese is simple and fun.
Allow a package of plain cream or nefuchatel cheese to soften at room temperature then mix in various ingredients. For sweet combos add honey, chopped walnuts and raisins; minced strawberries and vanilla sugar; or blueberry jam and reconstituted dried blueberries. For savory combinations, add diced olives, sun-dried tomatoes and roasted garlic; chopped fresh chives and minced dry onion, or dill and scallions.
Savings: $17
Bonus Budget Tip: Get kids involved in making their school lunches by offering them the opportunity to create their own cream cheese flavors.
7. Head to a bagel store with end-of-the-day specials … not to a bakery without adjusted prices.
Bagels served after Yom Kippur must be bought in advance so find a store that offers end-of-the-day specials. Before closing, purchase fresh bagels at a discounted price and immediately store in the freezer when you get home.
A good bagel looses freshness quickly. So, whenever you buy bagels, if you're not going to eat them immediately, always store in the freezer to maintain freshness. I like to buy in advance, but even if I would purchase bagels for the break-fast a few hours before Yom Kippur starts, I would still freeze them.
To freeze, simply store in two layers of freezer bags, making sure the air is squeezed out of both.
To defrost, a half hour or an hour before serving, take them out of the bag and let them come to room temperature. I don't prefer to defrost bagels in a low oven because they are hard to monitor and usually end up slightly toasted, but after the fast, I don't think people will care.
Savings: $5.50
Bonus Budget Tip: Even if your bagel store does not have end-of-the-day prices, see if they'll make a deal with you if you buy a few dozen near closing time.
8. Use your dishwasher … not paper goods
The post-Yom Kippur meal is a perfect opportunity to use real dishes and cutlery. Unlike Shabbat and Yom Tov, which prohibit turning on the dishwasher, save money by using real tableware, loading the dishwasher, and saving the paper goods for Succos.
Savings: $12.26
Bonus Budget Tip: Enjoy this rare opportunity to entertain a crowd with your dairy dishes.