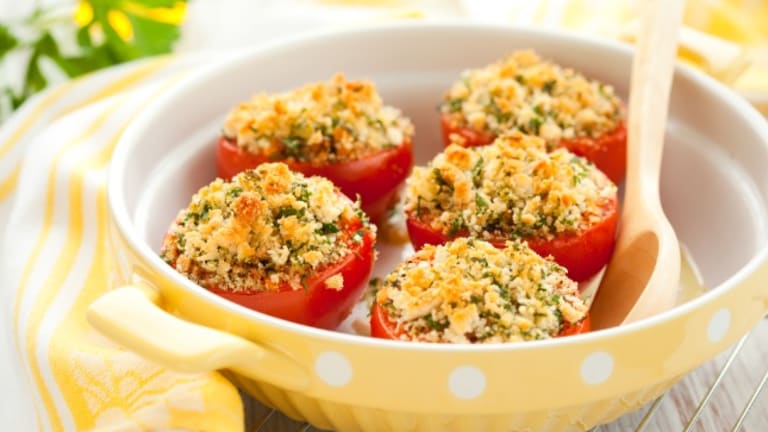 Yom Kippur Break Fast Recipe Ideas
I love smoked salmon as much as the next woman. You don't grow up in a Jewish home without knowing the ins and outs of lox on a bagel with a shmear. Or how to pick a fat whitefish or get extra onions and cream sauce for the pickled herring.
But my daughter Gillian has a life-threatening allergy to fish so we just don't eat any when she's at the house. Which means that the typical Yom Kippur smoked fish Break-the-Fast food is a no-no for us. And since I am the host of the annual holiday feast, none of my friends who celebrate with us eats fish either.
We don't mind. We never did. Because it's not about the food really, is it? It's about love and friendship, connectedness, gratitude that we are together for another celebration. About greeting a sweet, happy and healthy new year.
My friends and I have celebrated the Break-the-Fast together for many, many years. We have watched each others' children grow to adulthood. We have consoled each other during hard times, mourned the loss of loved ones who are no longer with us.
We've also shared many happy occasions. Bar and Bat Mitzvahs. College. Weddings. And, most wonderfully, grandchildren.
So our group has grown. When we get back from synagogue to start the festivities the kids run around just like in the old days when we were the young ones and it was our children. There's a lot of noise and a big mess and it's all okay.
We feast of course. A dairy-vegetarian meal, with both hot and cold food. Something light that won't sit like a dead weight after not eating for so long. All foods that I can make in advance and either freeze or keep for more than a day in my refrigerator. The dishes change from year to year because I like to mix things up, no matter what the occasion, but there are a few old favorites we just could not do without.
Kugel, for example. Because not having my friend Susan's sweet, Frosted-Flake Crusted creamy version would be unthinkable.
And Spinach Pie because it's my children's favorite and everyone loves it, even the grandchildren, and I always have some frozen. The recipe is in my book, Hip Kosher.
And Egg Salad, because I always make Egg Salad when the kids come so why should this time be different?
The rest? 
Salads, usually at least one made with a whole grain, such as Oat Groats Salad with Carrots Scallions and Raisins (I put all the ingredients together in advance and dress it with vinaigrette as I am getting the food on the table). 
Maybe Beet Salad with Scallions and Dill or Tomato Salad if I can still find good tomatoes at the market.
I've served quiches a few times (mushroom, cheese, asparagus or some other vegetable) because they heat up quickly. But I alternate that with Frittata, this year a Mushroom and Feta Frittata,  which is delicious hot or at room temperature. 
And I usually serve something "casserole-y" like Imam Bayeldi (sautéed eggplant, leeks and tomatoes), Roasted Tomatoes with Blue Cheese or Ratatouille to round out the menu with a few more vegetables (all good whether served hot or at room temperature).
It sounds like a lot of work. But all of it is finished ahead. And, as I keep telling everyone, the older I get, the easier my recipes become. Take a look at them and see for yourself.
A friend usually brings dessert, so I could be off the hook here. But sometimes I just can't help myself and I make the Grand Finale Cookies from Hip Kosher, because there isn't a soul anywhere who doesn't love these oatmeal-raisin-chocolate-chippers.
Have a sweet new year everyone, and may you have an easy fast.