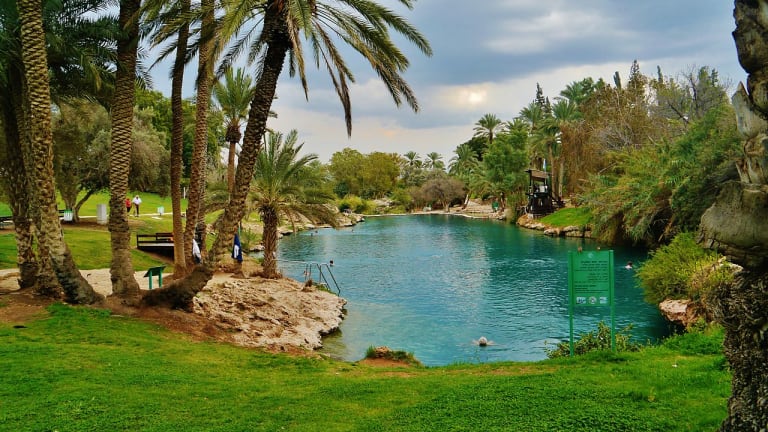 Israel Travel Guide: 17 Cool Places To Visit
WE asked you to send us your "hidden gems" of Israel, your off the beaten track, must see spots when traveling in Israel or taking day trips for those that live here. 
Today, we're sharing your top 18 attractions to visit the next time you are in Israel. 
Special thanks to CB Berkovits and Racheli Fuld of Navigating My Dreams who researched each place and included a short description with links for easy reference.
Rosh HaNikra
Rosh HaNikra is an intrinsic part of Israel, particularly Northern Israel. Literally meaning "Head of the Grottoes," Rosh Hanikra is home to some of the most beautiful grottoes on the planet. These limestone caverns have formed over time as a result of the turbulent sea action. Part of the fun is taking a cable car down to the grottoes and then back up again. There is a short film explaining the history of the grottoes before you venture inside. The whole area is absolutely stunning. If you are particularly adventurous you can see the grottoes from a rowboat. More info.
Ancient Akko/Acre
The Acco port has been an important part of Israel's history from biblical times. Major cities have risen and fallen around it with the most intact ruins being those of the Templar knights from when the Christian empire ruled the Holy Land. Visitors can explore the castle, learn its history and get lost in hidden passageways. Muslim influence can still be seen in some of the decor and nearby Turkish baths. There is also a small Arab shuk that takes you to a secret tunnel that leads to the ocean. (You can read more about our family trip here. Get more info and visit Akko. 
Mount Arbel
Located in the Galilee near the Kinneret, the peak of Arbel can be reached by foot or by car. It offers views of the surrounding area all the way to Mount Hermon, the highest peak in Israel. Built into the mountain are caves the Jews used when hiding from the Romans. Get more info here. 
HaBonim Beach Nature Reserve
Located in Northern Israel, right near Moshav HaBonim, is a picturesque beach that is also a nature reserve. You can observe animals while relaxing in the cool clean water of the lagoons. The shallow water makes it an ideal beach for younger kids. More info. 
Gan Garoo
This park is located at the foot of Har Gilboa and features animals from Australia as well as activities that teach Aboriginal and Australian culture. One of the highlights is being able to roam among the kangaroos and pet and feed them. Visit Gan Garoo. 
Beit Shean
Part of the National Parks, historic Beit Shean is the remains of an ancient Roman and Byzantine city. Despite an earthquake that toppled the city, much is still intact and you can walk on the road that looks much the same as it did years ago. There is also a huge amphitheater and various houses and public buildings to explore. High above on a hilltop are the remains of biblical Beit Shean. There is also a sound and light show at night that can be reserved in advance here. 
Sachne
Sachne Park, also known as Gan Hashlosha National Park, which means "Park of Three," is a stunning national park located right near Beit Shean that is well known for its springs. "Sachne" in Arabaic means "The hot pool," and that is exactly what these springs are for a good part of the year. Not quite hot, but certainly refreshing and inviting water that stays fairly warm most of the year. It is a wonderful place to visit with kids of all ages, with your spouse, or with a friend. More Info. 
Nachal Kibbutzim
Located in the area known as Gan HaShlosha, or Sachne, this is a quieter place to enjoy the water and a picnic. At the entrance are two smaller pools, one deeper than the other. A short hike away is the entrance to the nachal itself where one can enter and enjoy walking through the water. Good footwear is important and there are spots where the water can get very deep especially for little kids where it can be over their heads. Get more info. 
Pool of Arches
This unique experience can be found in Ramle. The Pool of 'Arches was built as an underground aqueduct over 1000 years ago. Now visitors can come and visit this feat of architecture as well as take a row boat out among the pillars and arches. Find more info here. 
Ayalon Institute
Originally a secret bullet factory used to make ammunition used in the War of Independence, it is now a museum showing how the Jewish people kept it hidden on a kibbutz and were able to produce millions of bullets secretly. For more information click here. 
Avshalom Caves
Also known as the Stalactite Caves right outside Bet Shemesh. Here, one can marvel at the beautiful stalactite and stalagmites and various cave formations. Since it is cool inside all year round it's a great activity for a hot, summer day. More Info. 
Har Herzl (Mount Herzl)
A visit to Jerusalem should certainly include Har Herzl. Named for the visionary of the Jewish State, Binyamin Ze'ev (Theodor) Herzl, Har Herzl is so much more than Israel's national cemetery. It holds memorial and educational facilities as well and is the venue for the annual ceremonies on Memorial Day (Yom Hazikaron.) Although Herzl wasn't originally buried in Israel, his remains were brought to Har Herzl where his grave can be found today. More info. 
Ir David (City of David)
This site encompasses a huge excavation project that goes back 150 years. Visitors can take a tour of the archeological site of King David's palace and King Chizkiyahu's water tunnels. Even if you've been before it's worth a repeat visit because new discoveries are being uncovered all the time. This is also the place to book segway tours and other tours around the Old City. Visit The City of David. 
Gush Etzion Sound and Light Show
The Etzion region played an important role in protecting Jerusalem during the '67 war. The story is told using 3D models and videos. The show also gives an overview of the history of the region using archeological remains. For more about the Gush, the heritage center and other area attractions click here. 
Mamshit National Park
Mamshit is located in the South near Dimona. It is the remains of an ancient Nabatean city. On special occasions there is a colorful Bedouin market with activities such as weaving animal hair, painting pottery, and basket weaving. There is a place for camel rides nearby as well as a short hike to Nachal Mamshit. Get more info. 
Alpaca Farm
The alpacas were bought in from the Andes in South America and visitors can come learn about them and see how their wool is used. There are also alpaca rides, horseback riding, feeding the animals and arts and craft activities. The farm is located in the South of Israel in the desert near the Ramon Crater, get more info here. 
Mahktesh Ramon
Israel's grand canyon, this geological phenomenon in Mitzpe Ramon is the largest of its' kind at over 24 miles in length and between 1 and 6 miles in width. Visitors can simply stop by for the view or there are several hiking trails, jeep tours, repelling adventures and even a camp site. The local area also has several hotels including the high end spa hotel, Bereishit which overlooks the Makhtesh. It is also one of the best places for star gazing. Get more info on visiting the maktesh here. 
View map with all attractions: