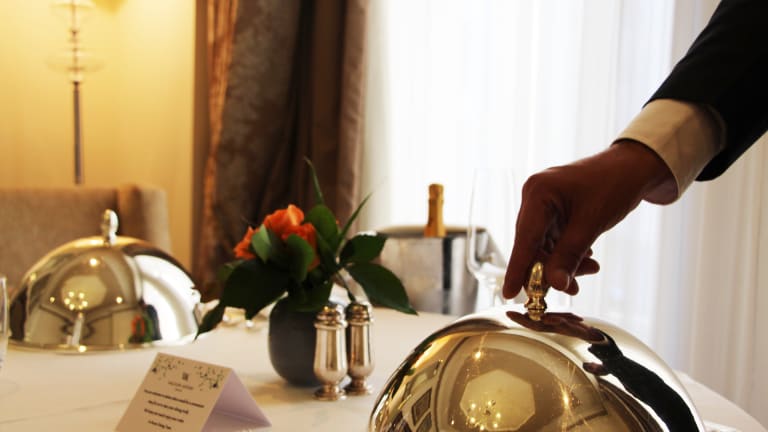 The Best Room Service Experience In Israel - Waldorf In Room Dining
It's no secret that Hubby and I are fans of staycations both with the family and quick 1 or 2-night getaways for the two of us.  Our number one escape is Jerusalem, our favorite city on earth.  Just 30 minutes from our house, it's close enough to grab a night but worlds away from the carpools and career that just totally consume our everyday lives.
In advance of a getaway, we used to peruse restaurant menus for months, actually planning our order from the local restaurants even before arriving at the hotel.  Recently though, we've decided to dine in. 
In-room dining at the Waldorf Astoria Jerusalem has changed the way we do things.  The rooms are private, elegant and spacious.  The service is so personal -- they waiter says things like "this is the salad as you like it"  -- making me really feel like there were notes next to my name in their system.  (I finally confirmed with the Personal Assistant that there are notes!)  They pride themselves on "True Waldorf Service" which means knowing and anticipating their guests' needs.  And sometimes those needs are a quiet and romantic dinner for 2, in your room with your "salad just as you like it".
Like the Red Velvet Cake, Eggs Benedict and Waldorf Salad the concept of 24-hour room service originated at the flagship Waldorf Astoria in New York City.
What started with "room service" is now a total new experience called "in-room dining", combining world-class gourmet specialties featuring entrees from their celebrated restaurants with the ultimate luxury of privacy in your room, while you wear your fuzzy slippers.
We're inviting you tonight to experience in-room dining at the Waldorf Astoria Jerusalem together with us.  
You can get all the best dishes served up to your room, just like us, here's the menu if you want to follow our lead.
Oven Baked Roasted Beetroots with Blue Cheese and Garden Salad with Citrus Fruit
Roasted Salmon Fillet
Sea Bream Fillet a la Plancha
Citrus Tart with Lemon Cream and Grapefruit Marmalade
Chocolate and Pecan Delight with Yuzu Cream and Exotic Sorbet