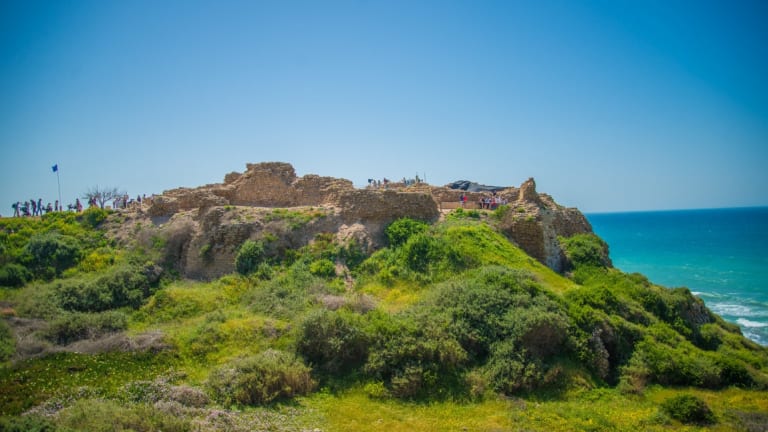 Top 10 Things To Do in Herzliya
Herzliya is a small coastal city, just north of the hustle and bustle of Tel Aviv. It's the perfect setting for a beautiful and relaxing vacation, complete with all kinds of attractions ranging from beautiful walking trails to historic archaeological sites.  Here are 8 incredible local attractions to keep you entertained when you're not eating, sleeping and relaxing at the hotel. 
Zappa Herzliya
Zappa is one of Israel's leading live music venues with locations all across the country.  Named after the great Frank Zappa, the venue produces high-quality shows and serves as an intimate space for private and business events.  The Herzliya branch boasts numerous shows throughout the week making it one of the top nightlife choices in the area. Click here for a calendar of events and to buy tickets. 
Herzliya Park
The Herzliya Park is an awe-inspiring green space in the heart of the city.  Park Herzliya stretches over 180 acres, offering expansive lawns, a barbeque area, a stage and natural amphitheater, a lake, and a natural winter pond. Emphasis has been placed on preserving and boosting the natural environment, along with recreation and popular sports. There are walking paths, a 1,200-meter bike path that connects with other biking paths in the area, a mountain bike track, and a dedicated 1 km path for runners. The playground facilities, suited to toddlers and older children, represent an architectural design and planning feat that is unique to all of Israel. Attractions include an 8-meter slide, rope bridges, and more.
Apollonia National Park
Just north of Tel Aviv, in Herzliya, lies the stunning Apollonia National Park and Beach adjacent to the ancient remains of the Apollonia fortress. Walking along Apollonia beach grants visitors the opportunity to look up at ancient ruins and out at the Mediterranean's crystal clear waters. With upgraded walking paths and stunning coastal cliff views, this beach is a perfect escape just minutes from Tel Aviv. For a family fun day or a romantic sunset stroll, Apollonia National Park is guaranteed to get you living like the kings and queens that used to reign over this ancient gem of a beach.
Herzliya Museum of Contemporary Art
The Herzliya Museum of Contemporary Art, located in the heart of Herzliya, is a museum dedicated to showcasing Israeli and international contemporary artists. The museum's primary focus is on art that offers a variety of perspectives on the socio-political situation, as well as art that nurtures the future generation by exploring the discourse between artists. (Closed on Saturdays) Click here for more information and to buy tickets. 
Shefayim Water Park
Shefayim Water Park, the largest and most popular water park in Israel, covers a site of over 24 acres and is comprised of 3 complexes including the water park complex, the motor park complex, and the adventure and paintball complex. The site also includes restaurants and fast food venues, sales booths, and special areas for selected productions. Shefayim Water Park's uniqueness is its extensive variety of exciting recreational attractions combined with an easily accessible location.  For more information click here. 
Mini Golf Herzliya
There is even mini gold in Herzliya!!!  It's an 18 hole course, but you can also find a trampoline complex for children and a café. (Opening hours- 15:30-20:00)
Herzliya Sportek
Sportek Herzliya is a 120-dunam sports outdoor compound in Herzliya, Israel. It is one of Herzliya's main attractions. The compound consists of several multifunctional playing courts, built for soccer and basketball, and in total has 13 basketball hoops, along with playgrounds, grass lawns, ping pong tables, a cafeteria, exercise machines, a walking track, and a roller skating surface.
Picolonia
Picolonia is a mini town simulation for kids to experience the adult world.  Through looking, touching and playing a variety of activities that stimulate the imagination, kids get to experience grown-up life.  Children love role-playing games and in Picolonia kids ages 4-9 will enjoy practicing their potential in the adult world through role-playing at the various pavilions. They learn about money in the bank for use in the urban supermarket; they can role-play working as a waiter at the cafe in the town square; and they can "drive" on the road with traffic signs, traffic lights and a gas station. They can be a cook, cashier, racing driver, a princess in a beauty salon, a police officer catching thieves to protect the public or a firefighter.  For hours, location and more information click here. 
Shivat Hakohavim Mall
Situated right across from Herzliya park is the mall.  The Shivat Hakohavim Mall (translated to 7 stars mall) offers the best of Israeli and International brands for plenty of great shopping.  There is also a bowling alley, a movie theater and lots of food. Get more information about events and opening hours here. 
Herbert Samuel Restaurant
The Herbert Samuel restaurant located just inside the Ritz Carlton Herzliya hotel is renowned for promoting Israel's culinary scene using locally-sourced ingredients. The space, bright with pops of blue, features an open kitchen and overlooks the beautiful Herzliya Marina and the captivating Mediterranean Sea.