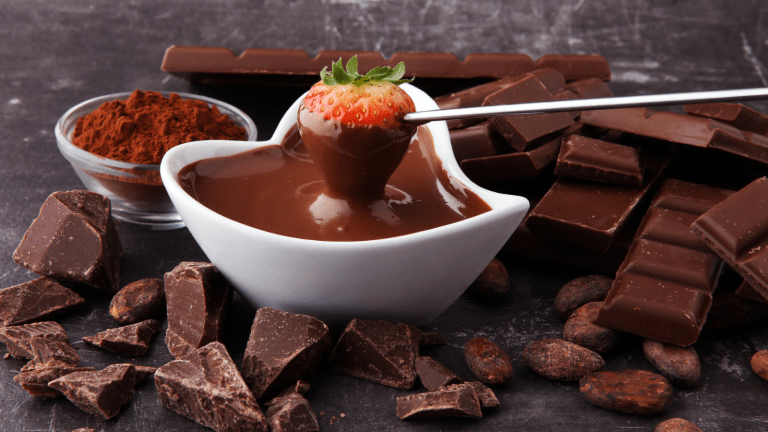 A Healthy Chocolate Fondue?
Looking for a fun activity that doubles as dessert? 
Whether you want a romantic night for two or a family game night, chocolate fondue can be a ton of fun.  It's not hard to put together and can be healthier than you think.
How can chocolate fondue be considered healthy?
There are so many wonderful health benefits to good quality chocolate so that's a good start.  Now follow this recipe:
Make sure to find chocolate that is at least 70% cacao, then chop it with a knife to get it ready for the fondue.  Heat up about ½ cup of whole milk and then add about 3-4 ounces of chopped chocolate.  If it is too thick add a bit more milk.  
If you want to spice things up a bit you can infuse the milk with cinnamon, Irish cream, hazelnut liqueur or mint.  
The original version of this recipe is made with heavy cream, but I found that whole milk did the trick and saves on some of the excess fat and calories.  
Now, all you need is a platter full of fruit.  If you stick to lots of different kinds of fruits you keep the dessert lower in calories, but also loaded with vitamins.    
If you want to cut the calories even further you can cut out half the chocolate and add cocoa powder for extra chocolatey flavor. 
Get more healthy recipes including chocolate desserts when you sign up for our healthy meal plan, Fresh Families. 
Fruit for fondue:
strawberries 
cantaloupe
figs (fresh or dried)
honeydew
kiwi
pineapple
bananas
pears
orange segments
apples
Stay away from cake and brownies and marshmallows, but if you want something to help balance the flavor and texture, try whole wheat pretzel sticks. 
Toppings? Sure, chopped nuts or shredded coconut are fair game.
What if I don't have a fondue pot? 
It is most fun to use a fondue pot and you can get them for under $50, this fondue pot makes it even easier because it's electric. If you don't have one, you can make it on your stovetop and serve immediately out of the pot or a ceramic bowl.  
Fun Fact: Fondue, as you might know, was invented by the Swiss and only came to North America in the 1950s.  In the 60s Konrad Egli of the Chalet Swiss Restaurant in New York invented the first Chocolate Fondue to get his diet conscious customers to buy dessert.  Thanks Konrad!