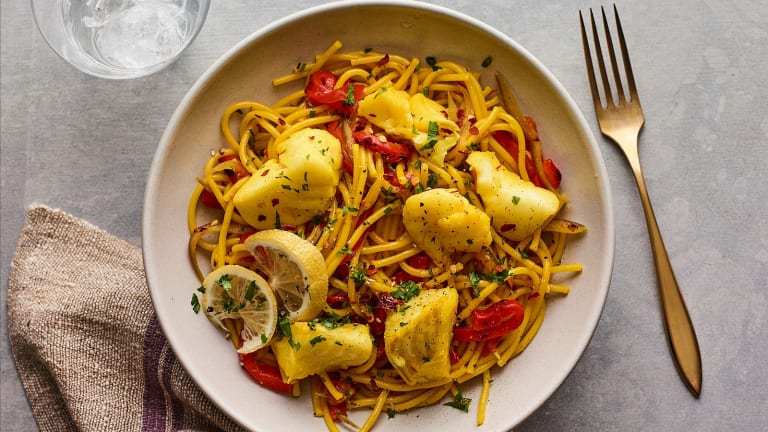 Easy One Pot Pasta Recipes Your Family Will Love
The comfort of one pot pasta extends beyond the knowledge that I (Hubby) won't have to do many dishes.
Warm, winter, carby dinners coat my belly and make me happy and satiated in a way few other foods can. These Asian and Spanish inspired one pot pasta, winter, winner-dinners, are perfect for when it's cool outside and toasty inside. Personally, I like to enJOY them while wearing fuzzy slippers.
MORE: One Skillet Dinners
ONE POT FIDEUA PAELLA (SPANISH PASTA PAELLA) 
There is a tradition of making paella with toasted pasta from the Iberian Peninsula. Toasting the pasta for just a minute or 2 brings out a delicious toasted wheat flavor. 
Go from pan to plate in 30 minutes with this Asian-style pasta dish. Serve as a meatless main with the addition of tofu cubes at the end or add leftover chicken in with the veggies.
With these one-pot recipes, you don't even need to dirty a platter.  Live dangerously and plate directly from the pan at your table.  Get my favorite pan that can fit a whole chicken in 1/8th here. 
Super simple with pantry staples you likely have ready to go any night of the week. 
This pasta features some favorite veggies especially perfect for Winter but it is really great all year round. 
This one is low carb and gluten-free because it uses carrots to stand in for the pasta, but it's super delish. 
A healthier pasta in one pot with a special creamy sauce. 
Make a creamy pasta in rose sauce easier than ever with goat cheese to add cream instead of heavy cream, you will feel good eating this pasta. 
One more creamy pasta which cuts the carbs with some cauli, but keeps it white. 
One Pot Broccoli and Olive Oil Spaghetti
This one has no tomato or creamy sauce for a change. 
One Pot Spaghetti with Super Meatballs
The only meat version on the list, it is best to make the meatballs ahead and separate, but it can all be done in one pot. 
What do you like to wear when eating your warm and wonderful winter one pot pasta?