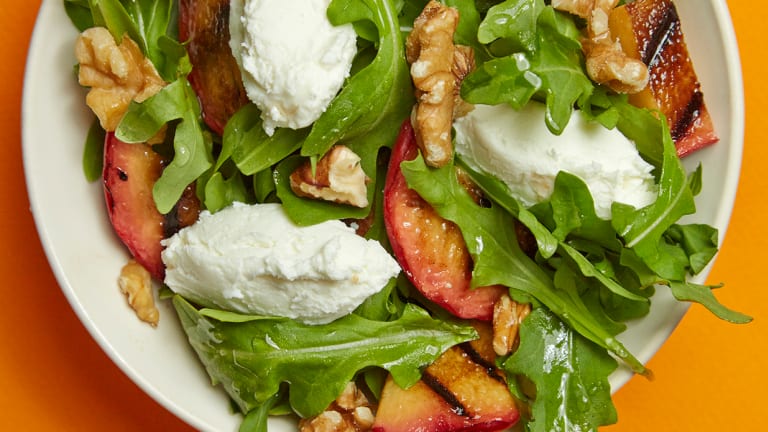 Make It a Meal Summer Salads
This summer, try some new, bright, and impressive salads, showcasing fresh summer ingredients. These spectacular salads require minimal preparation and are a quick, easy way to infuse color and freshness into all of your summer meals, picnics, and parties.  
The best part is that they can be used as appetizers for a big meal, but they also make a full meal for a healthy Summer lunch or dinner.  There is so much going on in these salads you won't need anything else.        
HEIRLOOM TOMATO SALAD WITH CRISPY SALMON SKIN & SEAWEED DRESSING 
A unique salad of fresh heirloom summer tomatoes, grilled salmon and seaweed. 
GRILLED PEACH AND GOAT CHEESE SALAD
The grill is meant for more than just meat. Fruits, such as peaches, develop incredible flavor when grilled.
MORE: Salads That Eat Like A Meal
Marinated in tequila, cumin and chili makes this Margarita Chicken Salad recipe absolutely tantalizing. Served as a salad with avocado, mango and lettuce.
Omit chicken and add shredded cheddar and crumbled taco chips for a dairy Mexican fiesta.   
This Strawberry Citrus Salad is bright and tangy! Great for your next summer snack! For added protein and depth of flavor, add Greek yogurt and fresh mint.       
Blend any leftover salad with ice for a sensational smoothie.             
All the flavors of sushi in salad form. 
Cooked salmon over fresh greens.