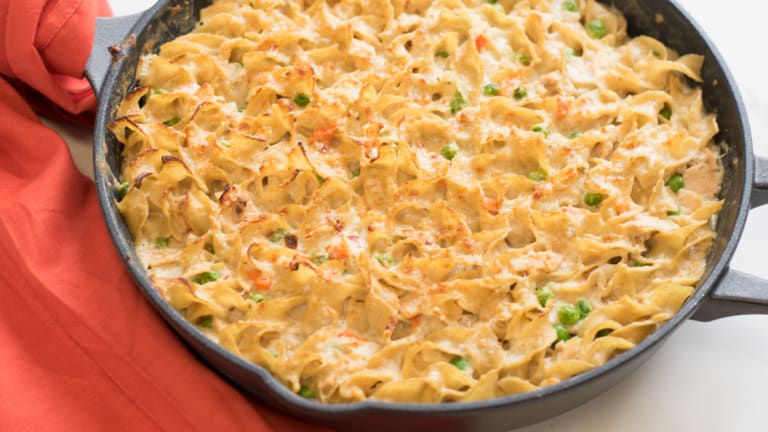 Terrific Tuna Noodle Casserole Recipes
A tuna noodle casserole is a perfect dinner for a weeknight when the kids come home from school, cold and "starving." They get one whiff of that warm, cheesy aroma and they are instantly soothed. In fact, just to guarantee that the kids will gobble it up, serve it with potato chips on the side, or crumble the chips on top. Who can pass up a meal that comes with chips?
And listen, Hubby's favorite lunch is a tuna sandwich with a side of chips – he could eat that every day. So I say, let him think of this casserole as the dinner version of a tuna sandwich.
And now that we've satisfied everyone else, let's look at it from our point of view: Tuna casserole is a filling, easy, quick, and inexpensive meal that you make in one pot. It doesn't get any better than that!
The traditional recipe, Creamy Noodle Casserole, is wonderful in all its cheesy, creamy glory. But if you are careful about your weight, or your fiber, or your white flour intake -- why should you watch while others eat? Why deny yourself this delicious treat?
So for you, my Whole Wheat Tuna Casserole with Spinach is the answer. It's just as delectably yummy, but carries far less guilt! Hold the chips, or buy the baked (not fried) kind. Another option is to get that crunch with some crudité (a fab French word that simply means raw celery, carrot, pepper, broccoli or cauliflower spears dipped in vinaigrette or other sauce of your choice.)
One more lighter tuna casserole is made even easier ina . skillet using goat cheese for the creamy goodness, get the recipe for Healthy Skillet Tuna Casserole when you join our Fresh Families meal plan. 
If you are a casserole fanatic, also try these delicious dishes, all fish based casseroles: 
Get more ideas with 20 Meat-Free Casseroles!