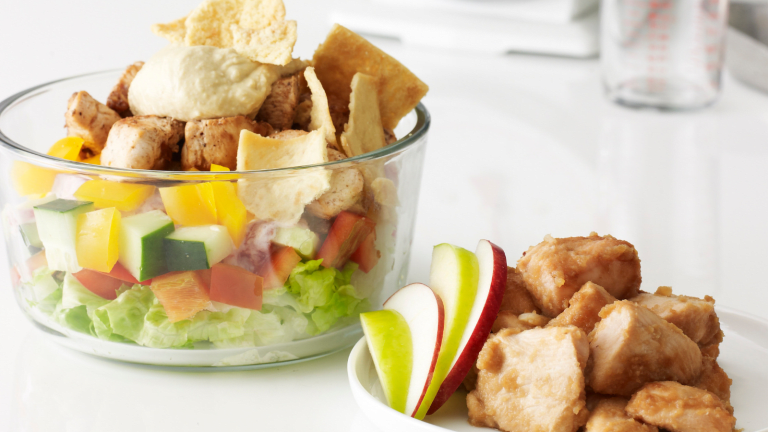 The Day After Chanukah
Yes, we indulged. It was Chanukah, we had to. Tradition is super important, right? Of course.
And while we enjoyed, we said, "When Chanukah is over…" But—shouldn't every day be delicious?
Holiday or weekday, an indulgent day or a diet day.  We invited four cooks to show us how.
The challenge? Create two light recipes.
The catch? A serving of both must total less than 500 calories.
So, yes, Chanukah is over.  We're going to cut back on calories now—but not on taste. Nope, not all.
First up, is Ronnie Fein with her chicken and mango stir fry and quinoa pilaf.  I feel great just thinking of eating these delicious healthy dishes.
Stir Fried Chicken with Mango, Sugar Snap Peas, and Jalapenos
Stir fry is always the way to go for quick and easy and healthy dinners, the addition of the mango really takes this one over the top. 
When you add fresh bright greens to simple grains it adds color appeal but also flavor!
The stir-fry and the quinoa are delicious together, as well as colorful, and festive, even for a holiday meal. And they're low in calories!"
Next, is Rachel Schindler with her make your own layer salad and intriguing dessert. 
Add a layer of any veggie you have in the house. This is a low-fat, no added sugar, high fiber, full of protein, and even low carb recipe that the kids and hubby will eat!  A one-trifle wonder.
Mini Pareve Cheesecake Parfaits
People love individual servings because they get to have a taste without the guilt. Low in calories and full of protein; you can even make these sugar-free.  Just because Hanukkah is over and you want to eat healthy doesn't mean you have to give up dessert. 
Nechama Cohen offers up her simple chicken recipe that leaves plenty of room for her delicious cookies. 
The marinade in this recipe is low in carbohydrates, fat-free, and is great for grilling too.  So simple, perfect with some steamed brown rice. 
Peanut Butter Chocolate Chip Cookies
These are flour/gluten free and low in carbohydrates, but don't hesitate to prepare them for all your peanut butter cookie monsters. These are easy and delicious.
Sarah Lasry shares her take on the classic grilled cheese and tomato soup comfort food made healthier. 
Roasted Tomato Bisque and Guacamole Quesadillas
There's no deprivation in this meal!  Incorporating some healthy fats in your diet makes you feel full and satisfied.  The soup is light on calories, but loaded up with taste.  
Get more low calorie high flavor meals when you sign up for our healthy eating meal plan, Fresh Families.  Weekly customizable menus and shopping lists ready to make your life easier.