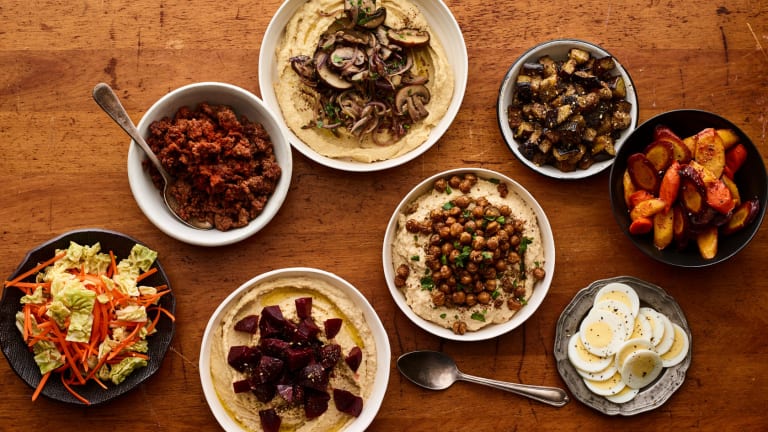 The Israeli Diet Is The Mediterranean Diet
Health Benefits of the Israeli Diet
Only a few days until Yom Ha'atzmaut (Israeli Independence Day) and it got me thinking about those amazing Israeli breakfasts of fresh cucumbers and tomatoes, cheeses and yogurts and fresh-squeezed juices, one of the highlights of any trip to Israel. America can learn a thing or two from our Israeli friends. Traditional Israeli cuisine falls within the Mediterranean diet that is well known for its many heart-healthy benefits.
Israel is a Mediterranean country and that the Israeli diet is considered one of the healthiest in the world!? Many studies show that the Mediterranean diet can help weight loss and prevent heart attacks, strokes, type 2 diabetes and premature death.
In Israel, people eat lots of fruits and vegetables, whole grains, fish and very little meat. Most of the fat comes from olives, healthy oil, nuts and avocados. Hummus, made of chickpeas, tahini , lemon juice, garlic and olive oil offers a nice balance of protein and carbohydrates and includes plenty of fiber. It is easy to find in the United States with popular brands like Sabra and Tribe available on most grocers' shelves or really easy to make on your own, like this delicious hummus recipe. It can be part of any meal, including breakfast. I was once talking to an Israeli who said he usually didn't eat hummus for breakfast because it is so filling he wouldn't be hungry for lunch. I wouldn't mind a food that actually kept me full until lunch!
Jamie and I both live in Israel and many of the recipes we create are inspired by the foods were eat here. Last year, we visited a famous malawach bar in the Machne Yehuda Market and it inspired this amazing malawach bar dinner concept. The idea is great for dinner, Shabbat, and any holiday. 
Like the rest of the Mediterranean diet, Israeli food is typically low in fat, rich in fish, lean protein, vegetables, fruits and beans. They also practice portion control. Israelis know how to use spices, herbs and seeds in place of sodium or fat to provide complex flavor. Search out Israeli foods like borekas filled with cheese, potatoes or vegetables, Jachnun (baked dough), Labane (a tangy yogurt spread) and Shakshouka (eggs cooked in a zesty tomato and vegetable sauce).
Israeli cuisine has many influences, but at its heart, it is based on plenty of vegetables and legumes, wine and extra virgin olive oil (we love Colavita). Tahini, falafel, eggplant, and a variety of salads are always present at the table. Meat is often part of the main course, but portion size is modest. Fruit is always served for dessert. 
And let's not forget the 7 Superfoods of the Bible, the Shivat HaMinim, Wheat; Barley; Grapes; Figs; Pomegranates; Olives; and Honey. These are all loaded with antioxidants.
If the health reasons alone were not enough to convince you to eat more like an Israeli, check out all our Modern Israeli Recipes you don't want to miss. You'll enjoy brand new recipes like eggplant tempura, sun-dried tomato falafel and baklava churros, all with Jamie's signature quick & easy style of cooking. 
Want stories like this delivered straight to your inbox? Sign up now for Jamie Geller's Weekly Newsletter.