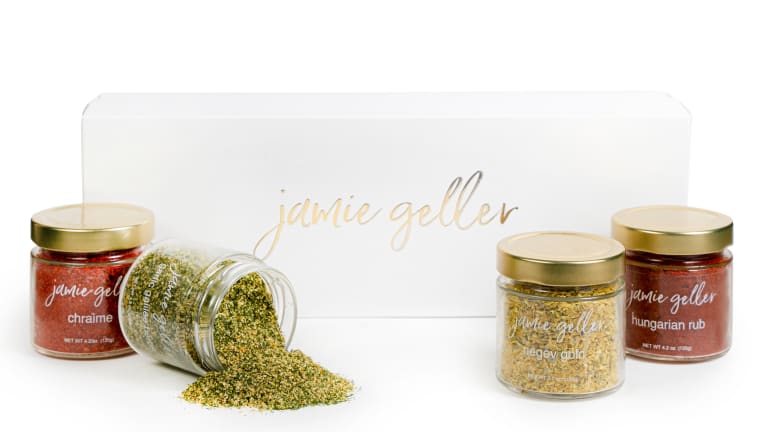 Guide to Using Our Passover Spices
Let My People Taste!

This Passover bland food is ancient history. Celebrate with holiday dishes, absolutely bursting with flavor, just as G-d intended.  The Jamie Geller spice collection is expanding to include a special line of Passover spices.

No need to stock up on a pantry's worth of lackluster spices, struggling to make your own blends, or worse relegating your holiday to 3 basic spices for every, single dish. This year you can transform your meals by adding a wide range of exotic flavors, featuring a hint of sweetness to a kick of heat, hailing from Hungary to Morocco and indigenous to Israel's Northern mountainous regions and Southern desert valley. Our 4 fresh blends combe complementary and contrasting spices to create the ultimate flavor explosion, across a range of produce and proteins that you can mix and match, again and again, and again, over the course of the holiday.
We know using new spice blends can be intimidating, so we created this guide to cooking with our Kosher for Passover blends to show you how to make the most and get the most out of our holiday line. The chart below gives you the what, why, and how for the entire capsule collection.
Order our Passover spices and honeys now, supply is limited. For delivery in Israel please contact us. 
Negev Gold
Worth its weight in gold this magical blend featuring salt and sugar crystals was originally developed for the humble potato, grown in abundance in Israel's southern Negev region. But something so magical resulted when the potatoes were tossed, coated and roasted that we couldn't keep this blend under wraps or exclusively for potatoes. Negev Gold is a winning way to season any sturdy, starchy, root veg, even chicken and turkey, and perfect for dry rubs. This golden, flavor-forward, sweet and salty spice, is spiked with an addictive combo of turmeric, onion, oregano, and bay leaf - Israel's bestseller will be your new best friend.
Lemon Rosemary Roast Chicken and Potatoes
Simply replace the salt and pepper with Negev Gold for an even brighter flavor. 
All potato recipes will be even better with Negev Gold, for this recipe you can replace all the extras, the salt and pepper, the garlic, rosemary and parsley with a couple tablespoons of Negev Gold. 
Simply use Negev Gold instead of salt and pepper in this dish. 
Roasted Fall Vegetables with Pomegranate Molasses
Use Negev Gold to make this roasted root veg side dish even better. 
Hungarian Rub
An ode to Transylvania, my parents, grandparents, and great grandparents birthplace, I grew up spicing everything with paprika (and garlic) except for my ice cream. This rub was imagined for your best, buttery, soft brisket but equally complements produce and poultry. Think of this warm, peppery-sweet, earthy blend of sweet and hot paprika, garlic, onion, turmeric, celery and cloves as the most balanced, unassuming, addition to your braises, dry rubs and marinades when you just need a little something from the old country.
SLOW BRAISED BRISKET AND ONIONS
Use the Hungarian Rub to coat the brisket instead of salt and pepper before searing, you won't believe how amazing your brisket will be.
Smoky Chicken and Sausage Stew
Replace salt, pepper, and paprika with the Hungarian Rub, perfect for this flavorful stew. 
CRANBERRY WALNUT SALMON ON A BED OF SPINACH
Use the Hungarian Rub instead of the salt, paprika, cumin, cinnamon and nutmeg.  This simple salmon is a perfect dish now made even easier. 
This spice rub is also perfect on a pot roast or Silver Tip Roast, as a spice rub for a simple Roast Chicken, or even to add some flavor to Matzo Fried Chicken.  Not to mention you can use this rub on roast potatoes, french fries and even steak.
CHRAIME
Named for the iconic spicy Moroccan tomato fish stew, Chraime is a warm blend of paprikas, sea salt, turmeric and sugar - not sweet and perfectly balanced. Use when you're looking to impart delicate heat to fish, veg and poultry as well soups, sauces, stews, braises, marinades and more. Originating from The Maghreb, your cooking will now have that distinctively Northwest African flair.
Sweet and Spicy Moroccan Carrots
Replace the cumin, red pepper flakes, honey, salt and pepper with Chraime. 
This fish is what this spice blend was made for.  Simply use the Chraime at the beginning to replace sugar, salt and pepper as well as the end to replace the turmeric and paprika.  You can use any fish for this dish and since it is traditionally served on Shabbat you know it will sit well until you're ready to eat. 
If you prefer a ground fish type dish, try the Moroccan Fish Meat Balls instead.  Use matzo instead of bread for Passover. 
You don't need a whole saucy stew to enjoy this spice blend, simply sprinkle it over a fried egg, ideally one that is sitting atop a portobello stuffed with avocado. 
Garlic Galilee Herbs
This herbaceous, pungent, bright blend of earthy oregano, peppery parsley, grassy dill along with garlic and sea salt is best used after cooking (or for the quickest of cooked dishes). Think dressings and dips or mixed into warm grains or simply to season savory yogurt bowls, soft and salty cheeses, and to finish sauces. Featuring herbs grown in abundance in the fertile mountainous regions of Northern Israel bring the flavors of Galilee into your kitchen.
Beets, Carrots and Toasted Hazelnuts Yogurt Bowl
Dress this savory yogurt bowl with the Garlic Galilee Herbs instead of salt and pepper. 
The perfect seasoning to a simple tomato salad, replace the garlic, oregano, basil, salt and pepper with the our blend. 
Roasted Red Pepper and Arugula Matzo Pizza
Use the Garlic Galilee Herbs when sautetting mushrooms and a little extra to top the arugula for this matzo pizza.