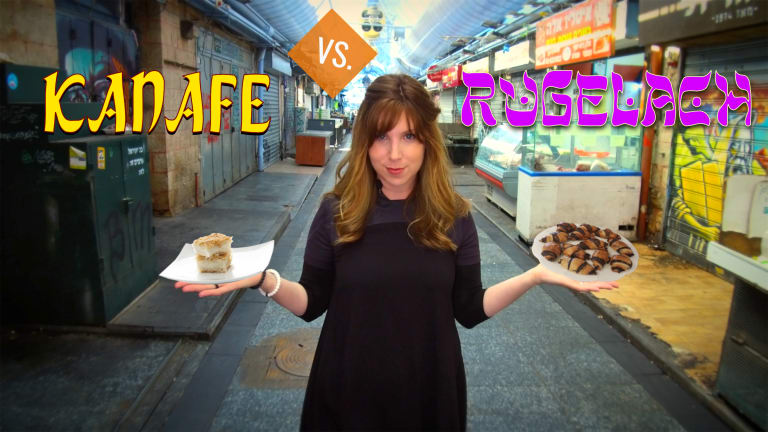 Israel's Machane Yehuda Market: Kanafeh vs Rugelach
I know you love "The Shuk", Jerusalem's most famous food market, as much I do.   I mean you can shop, eat, and drink all day long here!!!  So I took a tour, you can watch that on Instagram, and I decided to do a dessert faceoff.  
Kanafeh vs Rugelach
For this battle of desserts, I pinned the classic Ashkenazi chocolate rugelach against the trending Middle Eastern delicacy, kanafeh. 
I went to Marzipan bakery for some of the most famous rugelach, known for their super-rich and chocolatey rugelach, you can literally see the amount of chocolate in the video and you can get their copycat recipe here, Marzipan Chocolate Rugelach, but there's nothing like the original hot out of the oven in Jerusalem. 
Rugelach is the Jewish pastry of Ashkenazic origin popular in Israel and commonly found in most Jewish cafes and bakeries around the world.   Traditional rugelach are made in the form of a crescent by rolling a triangle dough around a filling - watch the technique below.  
For my Kanafeh I went to Kanafeh Ir David where you can order your very own pan of this sweet and crispy pastry.  Kanafeh is a traditional Arab dessert made with a thin noodle like pastry called kadaeif or alternatively it can be made with a fine semolina dough it's typically layered with a brined cheese or even clotted cream once crisp and hot it's soaked in a sweet sugary syrup and topped with crushed pistachio nuts. 
It was really really really hard to pick a winner but I did, so make sure to watch the video through to the end to see which one I chose, then let me know which one you choose. 
If you can't get to Jerusalem find our recipes below and make them at home.