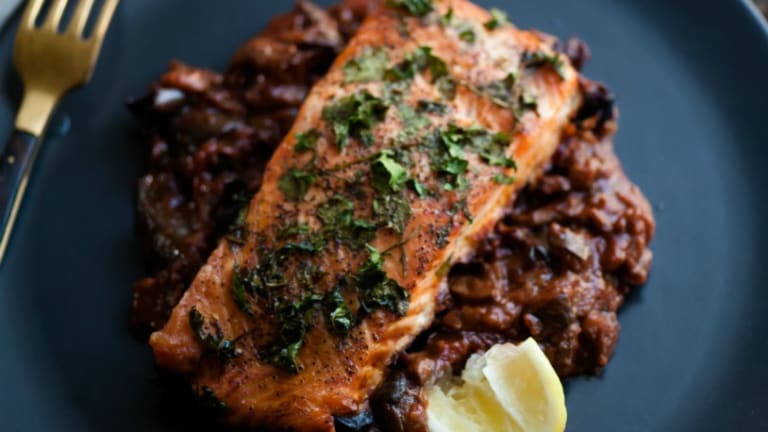 Watch Parsley Crusted Salmon Over Spanish Eggplant
My cousin's wedding in Tel Aviv featured the BEST simcha food I have ever enjoyed. It was simple, no fuss, pure deliciousness. The main course featured a choice between 1) melt-in-your-mouth short ribs, over pillowy sweet potato mash, topped with a caramelized onion quarter 2) pargiot stuffed with cinnamon infused ground beef, over a bed of dried fruit and pine nut couscous, finished with tahini and cilantro oil and 3) parsley crusted salmon filets, with tomato chickpea sauce. Most everyone sampled all three options. The evening was a display of simple ingredients cooked simply to perfection. I have since come home and recreated 2 of the 3 dishes the first of which I am sharing with you here today.
Get the full recipe for Parsley Crusted Salmon with Spanish Eggplant
The secrets to purrrfect Parsley Crusted Salmon are as follows:
Super Duper Fresh Fish: makes all the difference in the world.
Lots of Fresh Lemon Juice: are you sensing a pattern here? Fresh, fresh, fresh! When using a few ingredients it's essential you work with fresh because all are on full display and anything sub par will have no where to hide.
LOTS More Fresh Parsley Leaves: When you think you've added enough, add just a little more for good measure.
S + P + EVOO: Liberally season with KOSHER salt and freshly cracked black pepper plus a generous drizzle of good quality olive oil.
No Fuss Side: Bake your salmon on a bed of Sabra Spanish Eggplant. This delicious mix of all-natural ingredients - including eggplant, tomatoes, onions, and garlic simmered in tangy tomato sauce - makes turning this dish into a meal, a cinch.
Let me know how you like this recipe and the new video style!
XOXO
enJOY!