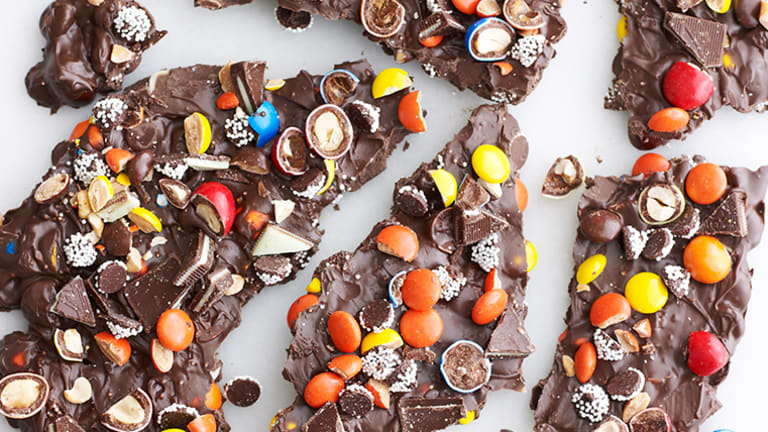 Cooking With Joy: Kiddie Candy Bark
You really can't go wrong with this Dress It Down version of the Salted Almond and Pistachio Bark recipe. I mean, Kiddie Candy Bark made out of chocolate, and fruits, and candy…… really? This is one of those recipes I would never have tried if not for the fact that I'm cooking my way through this book. I would feel too guilty. But not today! I'm on a mission, and this sugary deliciousness will not stop me!
First of all, it's important to use great ingredients. We never have such high quality chocolate in our home, so I checked at Evergreen and they had a few options of great quality baking chocolate. Who knew there were so many?
After a few rounds of opening the microwave and stirring I said "ain't nobody got time for that" and decided to do what I see chefs do on tv, and make a double boiler. It was my first time doing it, but, following the tips I've learned from years of the food network, it came out great and was a lot easier for me then opening, stirring, closing, and repeating.
I didn't use a big enough bowl to add the mix-ins, so after spreading the melted chocolate onto the parchment paper I sprinkled honey roasted almond stick, mini lentils and mini nonpareils over the chocolate. I then went over it with a spatula to help the add ins settle in. I sprinkled a few more toppings just to show the kids the candy was still there (as if huge chunks of chocolate weren't good enough for them). 
While not being the most economical dessert, it's definitely a very impressive special treat. Now that I know how easy and versatile making chocolates bark is, the possibilities are endless. Hubs wants the next round to be almonds, peanuts, cashews and craisins-yum that sounds good.
Round two, here we go!
Salted Almond and Pistachio Bark p. 279
DRESS IT DOWN Kiddie Candy Bark 
Note: This blog series, Cooking With Joy, is meant to be a companion to the Joy of Kosher with Jamie Geller cookbook. Most of the full recipes are only available in the cookbook.
{This blog series is brought to you by Evergreen Kosher Market, your neighborhood kosher supermarket. All content, ideas, and words are my own. Thanks for supporting these sponsors that allow us to create new and special content like this for JoyofKosher.com.}