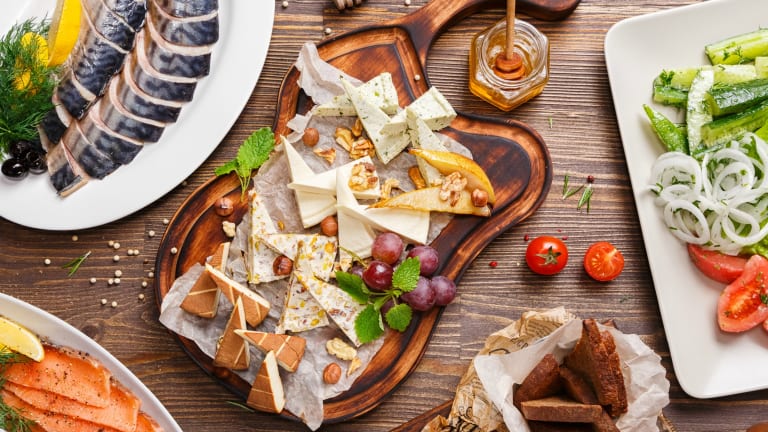 Serve Smoked Fish Like Your Local Jewish Deli
We all know and love smoked salmon, otherwise known as lox, with cream cheese on a bagel, but when hosting a bigger shindig for breakfast or Break Fast, we recommend upping your game with a full fish and cheese platter. 
Make a feast to rival your local deli with these steps:
1. Bagels are a must, but it is also nice to have toast points and/or crackers for those that are watching their carbs. 
2. Cream cheese is not your only option.  Make a platter of your favorite cheese, from spreadable goat cheese to creamy brie to hard slices of Swiss and/or smoked gouda. 
3. Smoked fishes should start with smoked salmon and/or gravlax, but don't miss out on white fish, smoked trout, smoked tuna (if you can find), and sablefish. 
Note that sturgeon is popular at many Jewish delis, but most people do not believe it to be kosher.  Read more about this controversial fish here. 
4. Don't forget the veggies.  Slice thin a whole bunch of veggies like cucumber, tomatoes, peppers, radishes, and red onion. 
5. Garnishes!!! Use garnishes for color and taste like capers, fish roe, herbs, and lemons. 
Your breakfast or brunch is ready to go, now all you need is dessert. 
Want stories like this delivered straight to your inbox? Sign up now for the Joy of Kosher weekly newsletter.