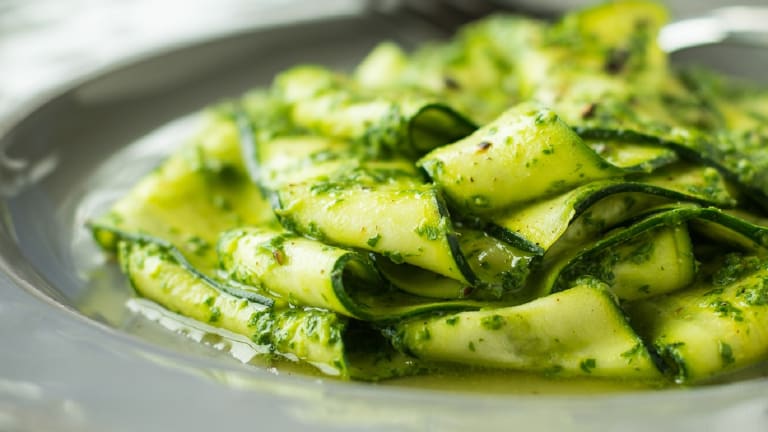 12 Perfect Pesto Possibilities
Pesto is the perfect way to dress up any dish! Pasta, sandwiches, chicken, salads, veggies, pizza, and even zoodles all can benefit from the savory boost of your favorite pesto sauce. But how do you like your pesto? Here are a few suggestions of alternative pesto ideas to add some flavor to your meal....
ROASTED BROCCOLI AND WALNUT PESTO
I am such a sucker for pesto. I'll enjoy a basil and pine nut pesto anytime, but it seems sacrosanct for summer. As we head into fall and winter, I've got just the alternative to match the season and still satisfy any pesto addiction. Broccoli is good year-round, but hits its peak season and flavor October through April. In this hearty and satisfying pesto variation, the roasted broccoli's warmth and depth replace basil's brightness.   
MORE: 4 Brilliant Ways to Cook With Basil
MAYO FREE CREAMY PESTO SALAD DRESSING
This Mayo Free Creamy Pesto Salad Dressing can be used in so many ways! From a dressing on salad, a base for a crisp cabbage slaw, or even as a marinade on chicken and fish.    
MORE: How to Make the Perfect Pesto
Make this fondue with your favorite blend of cheeses and swirl in your best pesto. The flavors meld together beautifully and are really amazing with polenta dipping cubes and artichokes.  
MORE: 7 Herb Hacks and Recipes
  Use on tomatoes or pasta or anything!  
MORE: 5 Easy and Elegant Weeknight Pasta Dinners
I love how you can make pesto out of anything really and using fresh arugula makes a really unique flavor that is slightly bitter, but very enjoyable. Tomatoes helps to counter balance the bitterness. You can also use walnuts instead of pine nuts or even almonds, really anything goes.  
MORE: 14 Guacamole Hacks
Add leftover shredded rotisserie chicken to round out the meal.  
MORE: Awesome Asian Noodles
Greek yogurt is a wonderful ingredient to use to add creaminess without extra fat to any recipe. In this recipe we mix plain greek yogurt with a flavorful pesto to make the perfect pasta sauce. Can be used on fish too.  
MORE: Fun and Zesty DIY Salad Dressings
COLORFUL GARDEN SALAD WITH CREAMY PESTO DRESSING
An exquisite, colorful garden salad with creamy pesto dressing. Don't forget to display it proudly in a clear, glass bowl.  
MORE: Zoodles 3 Ways: The Healthy "Noodles" You Have to Try
COLD POACHED SPINACH AND WALNUT PESTO CHICKEN
MORE: Make Your Own Condiments
PISTACHIO PESTO COATED BRUSSELS SPROUTS
Brussels sprouts taste great simply roasted, but for a little something extra, coat with a nutty pesto. This recipe uses a version of pistachio, breadcrumb and mint pesto for a real unique taste you will love.  
MORE: 8 DIY Spice Blends You Must Always Have in Your Pantry
PENNE WITH RED-PEPPER WALNUT PESTO
  Penne is livened up with a red pepper pesto, yum!  
MORE: 12 DIY Recipes You Didn't Know You Can Make in Your Own Kitchen
These Zoodles with Pesto are so simple and quick to make, with just a few main ingredients, your healthy and delicious dinner will be ready in 10 minutes!  
Want stories like this delivered right to your inbox? Sign up now for our *free* JOY of KOSHER Newsletter.