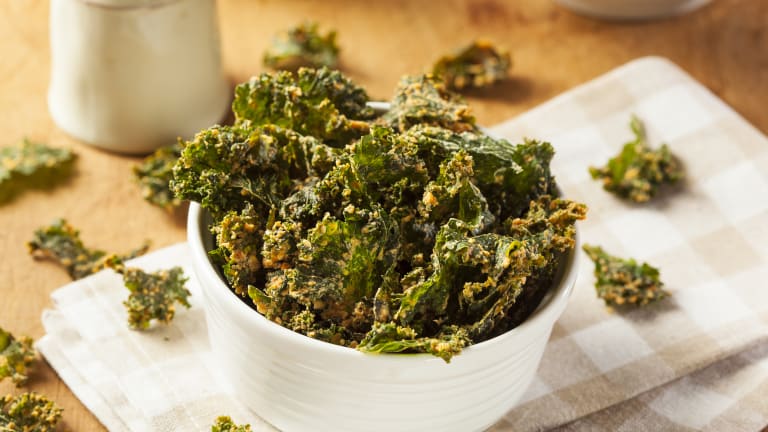 4 Incredible Kale Chip Flavor Combos
Recently I tried Tamar's Tahini Sesame Kale Chips and could not believe how amazingly delicious they tasted and how incredibly easy they were to make. Her recipe inspired me to play with different flavors and after a few dozen batches I've narrowed it down to four chip combos: Thai Peanut, Garlic Honey Mustard, Wasabi Ginger Soy, and Buffalo Blue Cheese.
These super healthy kale chips are "dressed up" as a flavor-packed-salty-crunchy snack in disguise. You may never reach for a bag of potato chips again after trying these delicious alternatives.
Also, the ingredients for these chips are so addicting that you may not even get to the roasting step. The recipes can just as easily be used as salads if you just can't wait to dig into the amazing kale deliciousness! I suggest making a double batch, one to eat as a salad and one to roast and enjoy later.
Go ahead, eat the whole bag! Is it possible to have too many slow roasted vitamin rich leafy greens? Probably not.  
These tasty vegan Thai Peanut Kale Chips are flavored with an addictive peanut butter sauce. A great way to spice up your super foods!    
MORE: The New Approach to Fast Food
These fun Wasabi Ginger Soy Kale Chips boast a kick of flavor from wasabi, ginger, and soy sauce.  
MORE: Warm Salads, Healthy Comfort Food
GARLIC HONEY MUSTARD KALE CHIPS
These Garlic Honey Mustard Kale Chips are addictive, and make a great salad if you end up eating them all before they reach the oven!  
MORE: Healthy Superfoods You Weren't Expecting
BUFFALO BLUE CHEESE KALE CHIPS
These delicious Buffalo Blue Cheese Kale Chips are savory and crunchy, topped with blue cheese and flavored with hot sauce and tahini.    
Want stories like this delivered right to your inbox? Sign up now for our *free* JOY of KOSHER Newsletter.