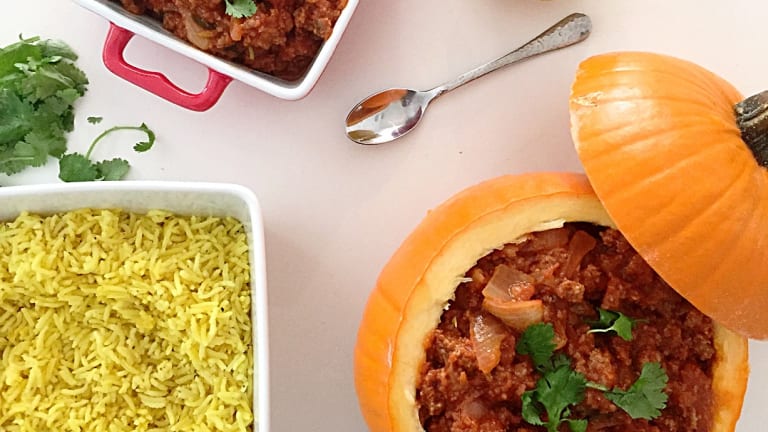 Serve it in a Pumpkin... 3 Meals in Pumpkin Bowls
From savory dishes to sweet treats, surprise your guests by serving the meal in a roasted pumpkin. It's tasty, unpredictable and impressive. The seasonal flavor of the pumpkin enhances any dish you can stuff in it. 
Cold Sunday mornings call for something fun, warm and filling to eat. It's the perfect opportunity to use leftover challah to make French Toast! These French toast bites are served inside a pumpkin, then drizzled with maple syrup and blueberries.  
 MORE: Pumpkin Spice Smoothie
This Moroccan Beef Stew in a Pumpkin dish brings a new twist to a ground beef dinner that's being served with rice or pasta. When scooped out of the pumpkin, the meat has unexpected, delicious flavors.    
MORE: Pumpkin Seed Brittle (save those seeds!) 
Quinoa is a satisfying vegetarian grain that can be served either as a main or side dish. In this recipe for Winter Squash Quinoa in a Pumpkin, the hearty butternut squash paired with dried cranberries offers a delicious and healthy mix for the cold weather.   
MORE: 3 Gourmet Pumpkin Recipes
Want stories like this delivered right to your inbox? Sign up now for our Joy of Kosher weekly newsletter.