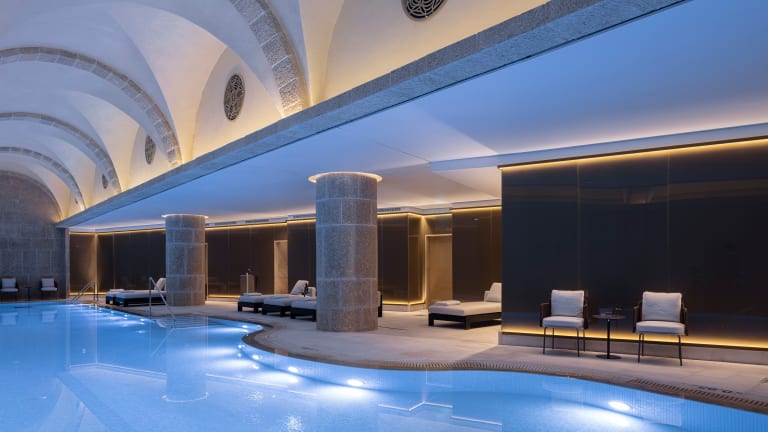 The Guerlain Spa at the Waldorf Astoria Jerusalem
One of my favorite Mother's Days was spent treating my mom to "mommy and me" facials and a spa day. After Hubby, the kids (and an olive oil bath), a spa is my favorite way to spend my time. So since I've still got the post Passover blues and Mother's Day and my Birthday are this month, I really wanted to test run something off of the new expanded facial menu at the Guerlain Spa at the Waldorf Astoria Jerusalem, the exclusive home to the 200 year old luxury beauty brand Guerlain, in all of Israel.
One of my favorite gifts, to get or give, is a spa treatment. And tis the season to start taking care of yourself. I'm joking of course, because taking care of yourself is always in season. But coming off Pesach in the spring and thinking already about summer vacation plans is when many of us renew our commitments to our (New Year's resolutions and) personal health and wellness journeys.
I am a huge proponent of adding sleep and spa treatments to my regime. I find both to be restorative and transformative. And I have a new favorite oasis in the heart of our homeland, Spa Guerlain at the Waldorf Astoria Jerusalem. 
In its grand opening year, the exclusive Guerlain Spa at the Waldorf Astoria Jerusalem has already become one of the most successful Guerlain Spas in the world. And it's easy to see why. A 2 hour facial option along with a full line of luxury skincare treatments (((the likes of which I have never seen at any spa in the world))) were just added to the expanded menu. Which also includes signature therapies developed exclusively for the Waldorf Astoria Jerusalem, such as the Harmony in Jerusalem (hot Jerusalem stone massage) and the Crowne Ritual (invigorating head and scalp stimulation). 
Guerlain is a 200 year old beauty brand synonymous with the intersection of science and luxury. A commitment to integrative wellness lies at the heart of every product and every treatment service.
When I arrived for my facial I was greeted by my personal beauty consultant and as part of my pre- and post-treatment time I had consultation and prescription sessions focused on my skincare needs and regime moving forward. Then began the ritual essential oils journey and I was lost in heaven, with no desire to find my way home.
Facial selections include the Ultimate Black Orchid Anti-Aging Cure, Abeille Royale Honey Repair Treatment, and the Imperial Global Anti-Aging Treatment (with a 3 hour option!!!) among others.  And when I couldn't decide we opted for the Tailor-Made Treatment which included the Guerlain signature 19-minute facial massage (my face muscles are relaxing just thinking about it), facial gymnastics, face sculpt, focus rituals, PRS "the lullaby effect" and some other things I can't remember because I suddenly found myself in la-la land.
The facial was a transformative experience that can and should be turned into a full day excursion. Ask my friends at the spa (seriously Guerlain Spa Manager Ran is my new best friend) about packages that include breakfast and/or lunch and then spend the rest of the day swimming and lounging by the vitality pool and alternating between the Turkish hamam and steam room.
With 9 treatment rooms (including for couples and luxuriously appointed individual suites) local residents are welcome to partake of paradise alongside hotel guests. But book ahead, as tremendous success comes with the price of limited availability.
And if you ever can't find me, now you know where to look.