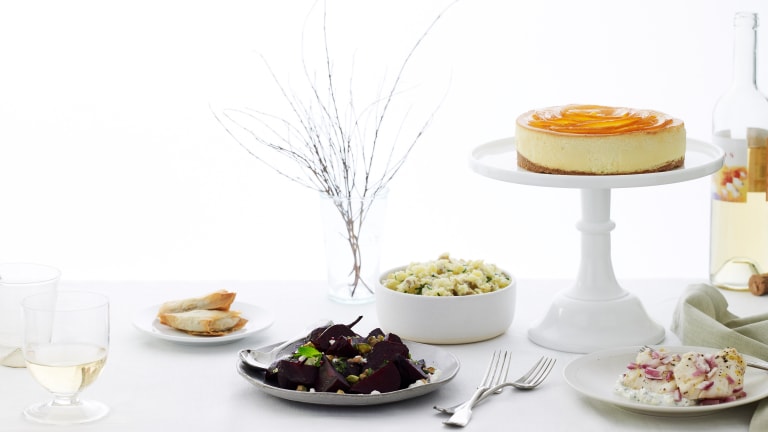 An Elegant Shavuot Menu
These spunky dairy dishes can challenge any fleishig (meat) fare for holiday feasting.  
I love Shavuos. It's such a happy yuntif—full of Torah and flowers, learning and family. And it's our chance to indulge in yummy milchig (dairy) meals that are as lavish and tantalizing as meat fests. 
This wonderful seasonal menu will make your dairy meals a gourmet's delight, and will even placate the meat & potatoes fans in your family.
Spinach and feta wrapped in buttered phyllo dough—need I say more?  
Every version of risotto is fabulous, but for the most authentic you have to go dairy with this dish—the combination of sharp parm and tangy goat cheeses make this spring vegetable version superb.
ROASTED BEETS WITH HONEYED PISTACHIOS
Sweet roasted and topped with goat cheese crumbles, this beautiful side is both soft and crunchy.
I'm not sure why this flavorful fish is not one of our everyday picks. It's not too salty, or "too fishy" and has a moist, flaky texture with a tender, slightly sweet, mild flavor.
CREAMY SMASHED POTATOES WITH CHIVES
Chunkier and more rustic than your standard mash, these spuds are enhanced by the color and flavor of fresh chives.
I love candied orange peels. (I know it seems like I love everything. Guess I just love good food; but I share only the best of the best with you!)
Find more Shavuot menus to suit every taste, budget and interest here.