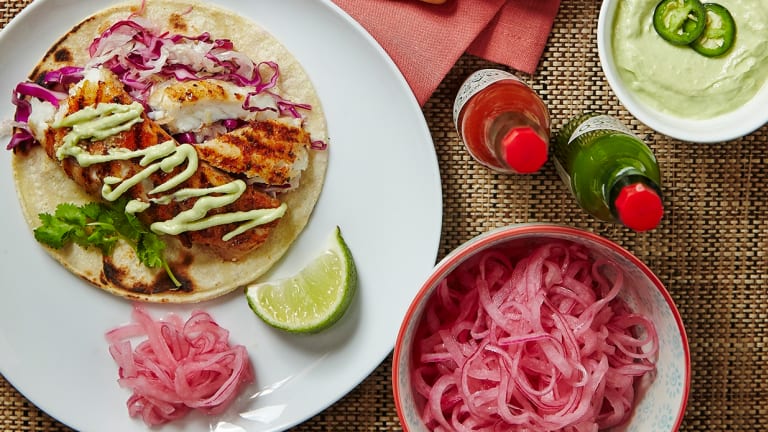 DIY Fish Taco Bar
I have always loved Shavuot because we get to eat some dairy Yom Tov meals, giving us a break from heavier meat-driven fare. I try to make my seudot special, fun, and interactive, too! I thought a taco bar would fit the bill on all these things. Your family and guests can make their own tacos according to individual preference. Fish tacos have become popular all over the country, and now are featured on the menu in many kosher restaurants. You can set up a buffet, or place it on Lazy Susans in the center of the table so you can spin around for the different choices. Inside your warmed corn tortilla (gluten free is always a bonus) you add in your fish, fried or grilled, then fill it with your favorite choices of fillings.
WATCH: Make Your Own Chicken Tacos
If you would like to grill the fish instead of frying, simply combine the spices in the following ingredient list with 2 tablespoons of oil. Rub all over the fish and grill for three minutes per side. 
MORE: Tex-Mex That Tastes Like the Real Deal
 Pickled Red Onions are easy to make and last a long time in the fridge.   
MORE: Make Your Own Mexican Shabbat
This Cabbage Slaw packs an unexpected tang with lemon juice and jalapeño.  
WATCH: How to Make American Coleslaw
 Avocado Cream Sauce is the perfect condiment for a fish taco, or a great dip for nachos. With a hint of jalapeño, it adds a creamy tang to whatever you dip in it.   
MORE: The Ultimate Nachos, 3 Ways
Recipe published in JOY of KOSHER with Jamie Geller Magazine Shavuot 2015 SUBSCRIBE NOW
Want stories like this delivered right to your inbox? Sign up now for our *free* JOY of KOSHER Newsletter.