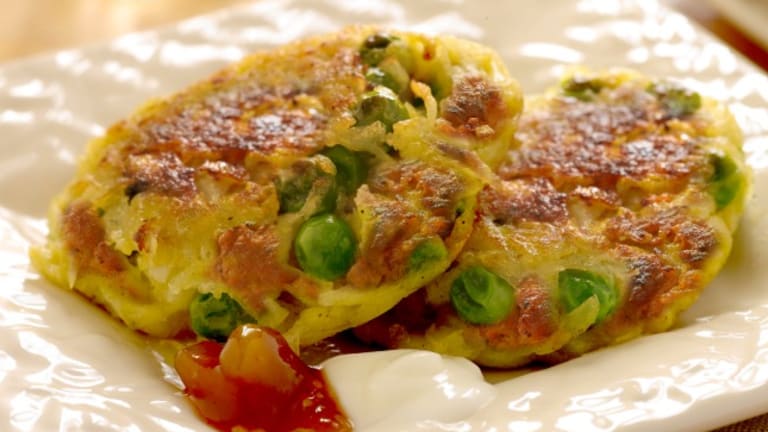 Eight Nights of Latkes!
It's time to be adventurous. I'm serving up eight latke recipes for each night of Chanukah!
Night #1 – Cheddar and Potato Latkes 
Mashing the potatoes first gives these savory latkes an amazing fluffy texture. The addition of cheddar cheese goes beautifully with the spiced applesauce for a latke that will surely be one of your new favorites.
Night #2 – Potato and Parsnip Latkes 
Traditional potato latkes get an extra hint of earthiness with the addition of parsnips and thyme. If you have a food processor, try using the shredding attachment to cut down on prep time.
Night #3 – Zucchini Latkes
This healthier latke doesn't use any potato at all but instead uses tasty vegetables and a great mix of Cajun spices.
Night #4 – Carrot and Apple Latkes 
Carrots, apples and ginger are combined in this unique take on a latke for a slightly sweet twist.
Night #5 – South of the Border Latkes with Black Bean Topping 
Spicy, hearty, and cheesy, these latkes are absolutely delicious packed with protein, carbs and veggies – it's like a meal in one.
Night #6 – Steakhouse Latkes 
Don't worry this recipe is pareve but the name is inspired by the spinach and potato style sides commonly offered in steakhouses alongside, well, a steak!
Night #7 – Samosa Latkes 
Use russet potatoes, they are the best for baking! The addition of curry powder, peas and the chutney is what gives this latke an Indian flavor.
Night #8 – Baked Sweet Potato Latkes with Gingered Sour Cream 
To satisfy any sweet tooth, these delicious latkes are baked, not fried, so they're a lot healthier. Paired with an easy to make gingered sour cream, they are a delicious treat! (you can always just fry them up if you must!)
And, for the people in your life who are purists (Zaydie comes to mind), here are a couple of traditional potato latke recipes, including my Zaydie's tried and true classic best ever potato latke recipe: Latkes, Crispy Potato Latkes, Mashed Potato Pancakes.