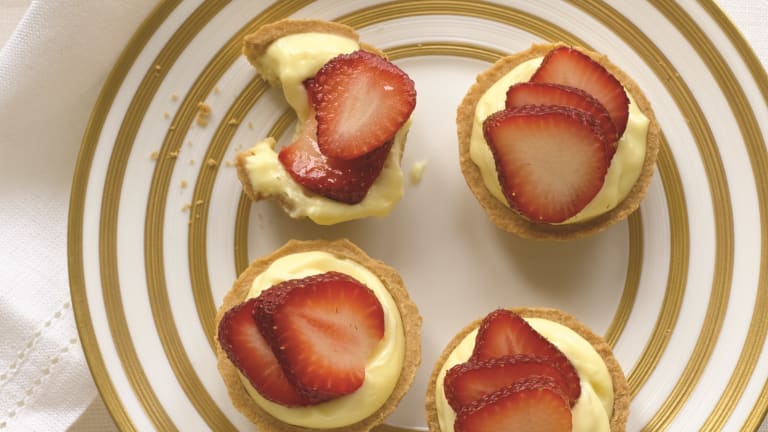 Jamie's Easiest Ever Shavuot Menu
Shavuos is MY holiday. Many of you know me as a recovering vegetarian having had to make the move for both professional and personal reasons. (I did marry one of the world's foremost meat eaters after all.)
But this here holiday is my time to shine! I'll go ahead and let it be known that my birthday dinner is also dairy. I'll be scoping out a new restaurant in Jerusalem this year for the big event. But I digress. Today it's all about my new menu for Shavuos, aka the Cheesecake Holiday.
MORE: The Perfect Shavuos Menu
A classic that's elegant in its own right but made even more special for the Yom Tov when mini-fied.
MORE: Bring Something New & Trendy to the Shavuot Table
This Spicy Braised Broccoli Rabe side dish is an easy and flavorful complement to almost any main course.  
MORE: Shavuot Menus for Everyone
Caesar is a Shabbos staple in our house, but nothing beats the dairy version topped with Parm - the way it was meant to be enJOYed!
MORE: Cheese Appetizer Recipes
My grandmother a"h didn't like sauce and always ordered white pizza - before fancy white slices (topped with ricotta, garlic and arugula) where en vogue. This white lasagna is an ode to her.
MORE: Cheesey Recipes for Shavuot
(Here I go makin' minis again!) We have so many cheesecake recipes, both dairy and parve, so I figured I'd throw Hubby a bone for dessert since he doesn't like cheesecake (WHHHAAATTTT?!??!?) but really cause I don't want to eat the whole darn thing all by my lonesome.
Chag Sameach!
Recipes Courtesy of Quick & Kosher: Meals in Minutes by Jamie Geller (Feldheim 2010)  
Want menus like this delivered straight to your inbox? Sign up now for Jamie Geller's Weekly Newsletter.