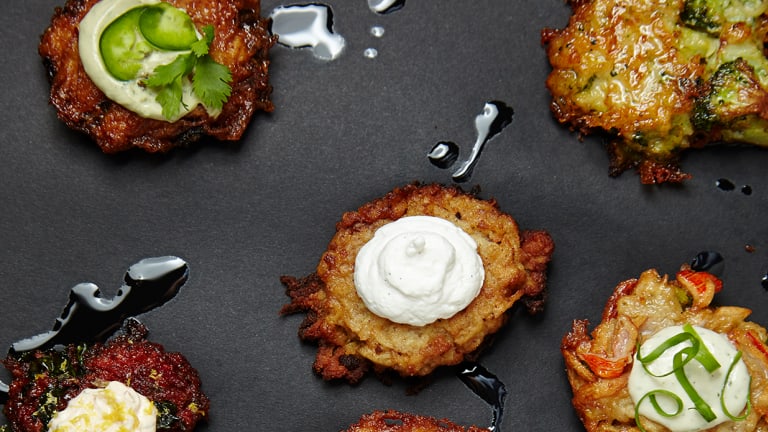 Best Latkes Recipes: 10 Latkes You Need to Try
Everything you ever wanted to know about latkes we have right here. 
What is the origin of latkes? 
According to Jewish food historian Gil Marks Z"L, the original latkes were actually made from curd cheese. Over time, the combination of geography and poverty led European Jews to turn to the potato latke, frequently fried in schmaltz (rendered chicken fat) when olive oil was scarce, as a source of sustenance and symbolism.  Learn more in 5 Things You Never Knew About Latkes. 
What is the difference between latkes and potato pancakes? 
Latkes are basically fritters and can be made from many different ingredients, just see below.  Potato pancakes are specifically potato latkes, which are the most common and popular type of latke we make today. 
What do you serve with latkes?
So many things.  Most traditional to serve with potato latkes are sour cream and applesauce, but any dip is fair game. We love tzatziki with zucchini latkes and aioli with sweet potato latkes. 
Do I have to peel potatoes for latkes? 
You definitely don't have to, check out these garlic latkes, but try it both ways and make your own decision. 
Can Latkes Be Frozen?
Latkes can be made in advance and frozen. After cooking, arrange them in a single layer on a baking sheet. When frozen, wrap them well. To save space when freezing or reheating latkes, stand them upright in a loaf pan, like soldiers! Reheat them uncovered at 375°F for about 10 minutes, until crispy and piping hot. -Norene Gilletz 
4 Tips for Frying
1.Choose a heart healthy oil. Oils with a high smoke-point are best. I like using grape seed oil and peanut oil. On Chanukah I do use olive oil, but I choose an inexpensive olive oil, specifically not extra-virgin, that can withstand the high heat.
 2. Drain. Always remove your fried food to a paper towel, to drain and cool for a few minutes so that the paper towel can absorb any extra oil. 
3. Coat your foods. If you are making potatoes or doughnuts there is no need to coat, but if you are making chicken, fish, or other veggies, a coating protects the foods and minimizes oil absorption while maximizing the crunch.
4. Heat the oil to the right temperature and maintain it. Use a deep-fry thermometer and fill a large, deep pan or pot with oil. The frying pan you pick should be large enough so you don't overcrowd the pan when cooking. Follow recipe instructions for the correct temperature. Most foods should be fried at 375°F. It is also important that you wait for the oil to be hot enough before adding your food.
MORE: The Secret to Frying Perfect Latkes

We reached out to the many talented kosher bloggers who are constantly coming up with creative ways to enjoy kosher cuisine, each with their own unique style. There is a latke here for everyone; we loved them all!
This is the EASIEST LATKE RECIPE you will ever find, and I will never make them any other way. Crisp on the outside, soft on the inside. Just delicious. Oh yeah – and they freeze gorgeously. My latest obsession has been to sprinkle the latkes with truffle salt just as they come out of the frying pan. D-I-V-I-N-E!!! (If you plan to do this, just reduce the salt in the recipe to ½ teaspoon.)
MORE: Latke Recipes for a Happy Chanukah
Not being a big fryer – and latkes are the best when fried – I eagerly await Chanukah every year for the perfect latke. I'm pretty picky when it comes to what makes a latke just right: In my opinion you want the edges to be crisp, and the center to be soft and oozing with hot batter. This Crispy Creamy Latke achieves that perfect balance.
MORE: Classic Soufganiyot Recipes
BUTTERNUT LATKES WITH APPLE BUTTER
These Butternut Latkes with Apple Butter are a nice alternative to traditional potato latkes for Chanukah. The Apple Butter, similar to applesauce, is a perfect pairing with the savory Butternut Latkes.
MORE: 5 Things You Never Knew About Latkes
SPINACH, SWEET POTATO, AND GOAT CHEESE LATKES
These Spinach, Sweet Potato, and Goat Cheese Latkes combine two superfoods— spinach and sweet potatoes, into one totally delicious latke. It is a great way to re-purpose leftovers into a fresh dish that your family will love. In fact I invented it by combining leftover mashed potatoes with frozen spinach. 
MORE: Cheese Latkes
Who said you must use potatoes to make latkes? Veggies mixed with loads of other flavorful ingredients and then fried in oil produce a perfectly delicious and crunchy     No-Potato Vegetable Latke.  
MORE: Vegan and Gluten Free Latkes
This recipe for Confetti Latkes is packed with veggies like kohlrabi, carrots, and beets, which not only make them colorful, but also enhance their flavor.  
MORE: Complete Chanukah Menu
JALAPEÑO LATKES AND AVOCADO CREAM SAUCE
This recipe for Jalapeño Latkes with Avocado Cream Sauce is spicy and savory and oh so addictive. It is the perfect Mexican-inspired alternative to traditional latkes on Chanukah.  
MORE: Latkes, Stuffed and Topped to Perfection
APPLE PIE LATKES WITH VANILLA CREAM
These Apple Pie Latkes with Vanilla Cream are the perfect combination of my two favorite comfort foods— apple pie and latkes. The Vanilla Cream takes it over the top!   
MORE: Crispy Chanukah Delights
Potato latkes are as exciting as vanilla ice cream. I'm sure there are the purists who believe it's best to stick with tradition, but I like to mix things up in the kitchen. This year, I'm giving the latke a serious makeover, starting with this Broccoli-Cheddar Latkes recipe.    
MORE: 10 Classic Chanukah Recipes with a Modern Twist
ASIAN MOCK CRAB RED POTATO LATKES
These Asian Mock Crab Red Potato Latkes double as a classic Chanukah dish and a fish course! They are seasoned with a fusion of Asian inspired flavors and then topped with a rich Garlic-Ginger Tehina.
Get more ideas for latke flavors and toppings with over 100 latke recipes.