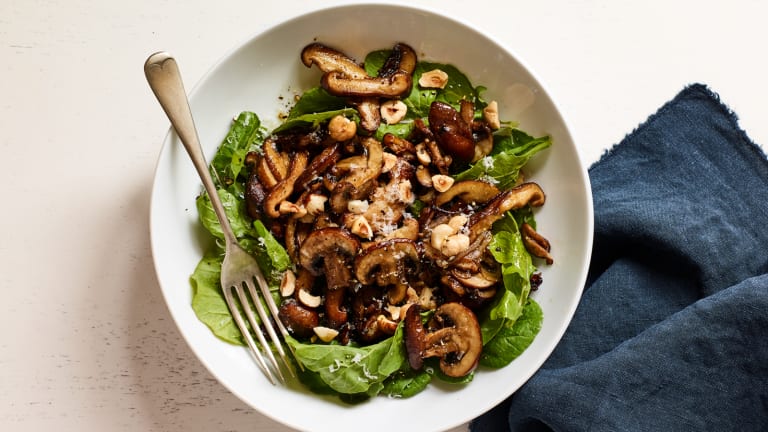 Matzo-Free Lunch or Dinner Passover Recipes
Before Passover, it is a custom to refrain from eating matzo for at least 30 days.   It is also common to clean and prepare the house for Passover way in advance.  That leaves us with serving Passover recipes that are also matzo-free.  At the same time, during Passover you will want to take a break from the matzo laden dishes just to keep your digestive tract moving. So here are 30 matzo-free meals that work for both lunch and dinner and maybe even snack and dessert. 
 SALADS
Eat healthy while still enjoying a range of flavors and textures by incorporating many different vegetables into salads this Pesach.  There's this crunchy Raw Cauliflower Tabbouleh or refreshing Spring Asparagus and Pickled Red Onion Salad.
Try something new with warm salads, or serve sauteed veggies as side dishes, like these Idaho® Potato Napoleon with Grilled Vegetables or Imam Bayeldi (Braised Eggplant, Leeks and Tomatoes) or a crowd please Warm Mushroom Salad. 
MEATLESS
There's something about pesach that leaves one either achingly full or searching the fridge as if you haven't seen food in weeks. Strike a healthy balance with hearty, meatless meals that should leave you with leftovers for lunch or dinner the next day. 
Start with the Creamy Carrot Bisque, followed by Zucchini and Potato Tortilla, Drunk Tuscan Tuna Steaks, and Grilled Eggplant and Roasted Pepper Salad with Preserved Lemon. End the meal with something sweet such as Cheesecake Ice Cream with Crumbled Macaroons.
Or for something a bit lighter and more suited to Spring.  Start with the Creamy Asparagus Soup, which will make you wonder why you don't cook more dairy based soups. Followed by Stuffed Endive Boats and Silver Dollar Smoked Salmon Stuffed Potato Pancakes. Enjoy a hearty slice of Lemon, Lavender and Almond Cake (lavender is optional) for dessert.
MEAT MAINS
Main dishes that can be served warm or cold, or that can be transformed into deliciously unrecognizable leftovers are a flexible luxury when planning and during a  holiday that logs a lot of kitchen time.  These slow-cooked recipes,  Braised Pot Roast with Baby Carrots and Crispy Shallots, Lamb Stew with Apricots, Pear, and Mint and Garlic Lemon Chicken make for elegant easy dinners and can be easily repurposed for lunch the next day.
FISH MAINS
Try something lighter with the Parsley Crusted Salmon over Spanish Eggplant or Lettuce Wrapped John Dory.
SNACKS and DESSERTS
The obvious ban on flour and many packaged products lends itself well to lighter desserts.  While no one is rushing to call sugar healthy, having a few Dipped Strawberries or a small scoop of Rose Granita or Lemon or Lime Frozen Yogurt is a refreshing and relatively guilt-less alternative.
If you're looking for a warm dessert try the Apple Compote or Walnut, Ginger and Cranberry Stuffed Apples that can be made in a slow cooker if you have one for Passover.
For a little bit of chocolate try Almond Lace Cookies with amaretto!
Check out more Passover recipes here!