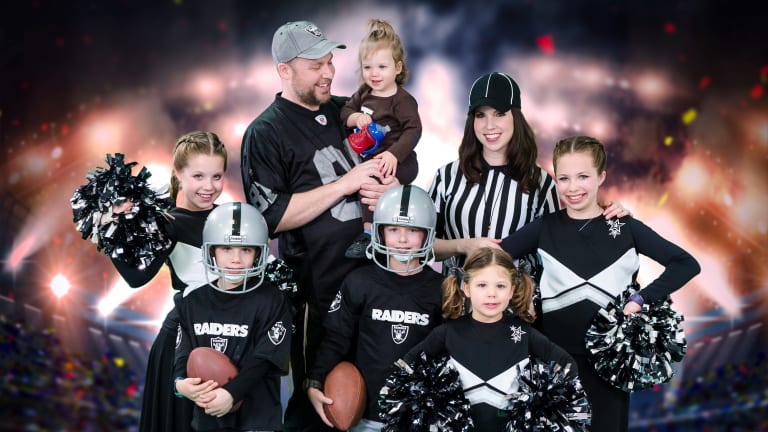 Dress Up Like Your Favorite Sports Team For The Best Family Purim Ever
The Raiders
Never heard of em 13 years ago. Now I'm a ride or die fan. Have to be, it's Hubby's team. And his minhagim (customs) have become mine, just like his last name.
My Shabbos china sports raiders colors, mercifully they are black and silver.  We have raiders shot glasses and slippers, blankets and caps, jerseys and now… Purim costumes.
We are all in.
You pickin' up what I'm puttin down?
We are in it to win it. Despite the fact that our beloved team was sidelined during the playoffs due to injury this season doesn't mean we ain't partying this Purim like it's 1977, '81 or '84 and the Raiders won the Superbowl.
Feast your eyes on our Raiders La Familia Purim themed extravaganza. From the costumes, to the mishloach manot to the Purim Seudah and even the dessert we went a bissel bonkers.
Meet our players:
Yaakov Yosef (aka YY) is our quarterback.
AY (aka Avraham Yitzchak) is our linebacker.
Bracha Miriam, our Cheerleader Co-Captain.
Sharing this duty with Rochel Naami.
Noa (aka Noeeeee) is just happy to be on the squad.
And Shaulie Dovid, our little butterball is the cuddliest football.
I'm trying my hat at refereeing.
And Hubby, well, he's the one that started this whole thing. He's not quite the ham I am but is such a good sport!
Even if you're not that into football but do identify most with Sporty Spice like I do then dress as your favorite team, or at least look dressed to play your favorite sport and check out these easy, peasy sporty mishloach manot to go with your costume.
Take it into OT with a game day seudah soooooo good that even your non-sporty guests will be cheering GO TEAM!!!!
Photography by Brian K. Spector | brianspector.com