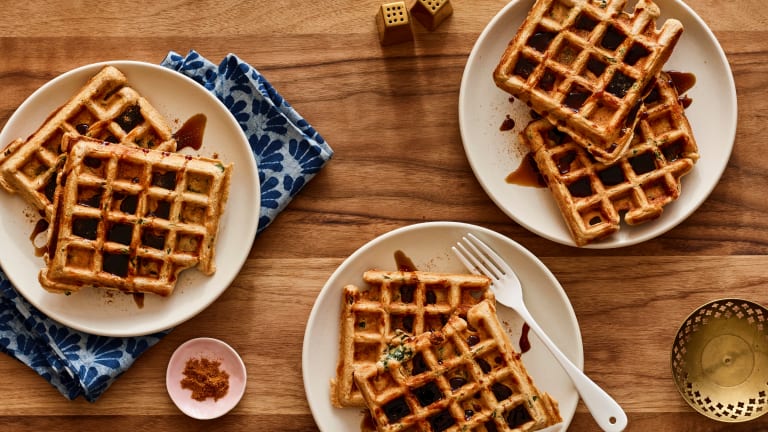 School Daze: Nutritious and Delicious Breakfast and Afternoon Snack Ideas
Weekdays are challenging when it comes to feeding a family. Getting the kids off to school with an energizing breakfast in their bellies and making it to work on time is tough. And by mid-afternoon when they get off the school-bus you know they're going to be ready for a snack, regardless of what they ate for lunch. Making sure that your kids eat balanced and healthy meals that are still filled with flavor is no easy feat, but it can be done.
You've heard it many times before: Breakfast is the most important meal of the day. Guess what? It's true, especially for kids and teens. Children who eat breakfast have higher test scores and faster memory recall. Plus, they get more of the nutrients they need to grow and stay healthy, such as protein, calcium, and fiber. And with rising rates of childhood obesity, it's note-worthy that children who eat breakfast weigh less than those who don't.
Here are some quick and easy ideas:
Better Bowl of Cereal. Combine a cup of low-sugar, high-fiber cereal with fresh fruit, and low-fat milk or yogurt. Some kid-friendly cereals that aren't loaded with sugar are Kashi Honey Sunshine, MultiGrain Cheerios, and Barbara's Original or Cinnamon Puffins. If your kids are very resistant to trying these healthier cereals, you can combine half a serving of your child's favorite cereal with half a serving of one of the whole-grain, high-fiber cereals.
Waffles on a Weekday. Top a frozen whole-grain waffle or a set of mini waffles with natural peanut butter or low-fat yogurt and fruit (blueberries, strawberries, and bananas are some kid faves!). Try Earth's Best Organic Mini Blueberry Waffles or Van's Multigrain Waffles, both of which are made with whole wheat flour.

Smoothie Time. Blend fresh or frozen fruit with low-fat plain or Greek yogurt or milk.

Cheese Muffin. Top a whole-wheat or multigrain English muffin with low-fat cheese. Add a side of fruit to balance out the meal.

Eggs in a Hurry. Prepare hard-boiled eggs over the weekend so your kids can grab a couple weekday mornings. Make sure they have a piece of fruit too!
Top Your Toast. Avocado toast has been all the rage, but don't stop there, try everything from peanut butter and banana to ricotta and pineapple for your breakfast toast. 
Some other ways you can make sure your kids don't go to school without some fuel:
Grab and Go, Prep Ahead Breakfast Ideas
Prepare baggies of cereal with some nuts and dried fruit and keep them by the door for an easy grab-and-go breakfast.

Pack breakfast the night before – yogurt cups, hard-boiled eggs, and string cheese with fruit work well for easy eating on the way to school (just don't forget to pack utensils!).
Have breakfast/granola bars on hand as a last resort. Some of these bars are nutritionally better than others. Choose bars that have less than 5 grams of fat and at least 3 grams of fiber and 5 grams of protein.
After school is another time of day that your kids will be hungry – even if they've had a balanced lunch. You don't want them to spoil their dinner by grabbing candy bars or a slice of pizza on the way home, so it's important to have nutritious snacks on hand that will hold them over until dinner. 
Below are some nutritious and delicious after-school snacks your kids will love
Veggie Dippers. Slice up raw vegetables like carrots, cucumbers, and peppers (you can do this over the weekend) and serve with 1 to 2 tablespoons (or an individual snack pack) of hummus.
Fruit and Yogurt Parfait. Layer 6 ounces nonfat or 1% low-fat plain yogurt with fresh fruit and 1/4 cup whole-grain cereal.
Ants on a Log. Fill celery slices with 1 tablespoon of natural peanut butter and top with raisins or dried cranberries.
Trail Mix. Mix together dried fruit, raw, unsalted nuts and/or seeds, honey-wheat pretzels, and dark chocolate chips. Portion 1/4-cup servings into resealable bags.
Fruit and Cheese Plate. Slice your child's favorite seasonal fruit (apples in the fall, oranges in the winter, nectarines in the spring and summer) and serve with an ounce of low-fat cheese.
PB & J Smores. Spread natural peanut butter on a whole-grain graham cracker square. Top with blueberries, strawberries, or raspberries and another graham cracker square to make a sandwich.

Green Beans. Microwave 1/2 a cup of Edamame (soybeans) in pods. Your kids will have fun eating them and get lots of protein too (just make sure they don't eat the pod).