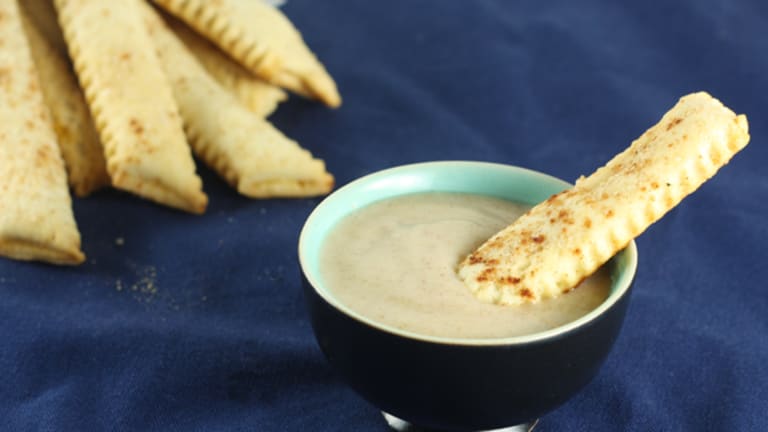 Thanksgiving Pie Fries
With Thanksgiving right around the corner it is firmly pie season. Sure, I make pies all year round, but there is no one-day of the year that screams "pie" like Thanksgiving. (Ok, maybe March 14th does as well, but only among the slightly nerdy circles I run in.) The challenge of Thanksgiving pies for me is that people expect the traditional flavors, leaving me much less freedom to innovate and play around with the dessert than I usually have. It is rare for me to serve the same dessert twice for Shabbat or holidays, but for Thanksgiving people expect the classics.
That is what makes these pie fries so much fun. They have the traditional Thanksgiving pie flavors of pumpkin and cranberry apple served up in a fun new shape. I had seen apple versions of pie fries all over the web, so when I was given the challenge of turning them into more Thanksgiving like treats I jumped at the opportunity. 
Since I would never dream of serving French fries without some kind of dipping sauce, it was clear that these fries needed a sweet dipping sauce of their own. I always serve cinnamon ice cream with my Thanksgiving pies so I decided to use that same flavor paring here. This creamy and slightly spicy pastry cream is the perfect dip for the pie fries, if you can keep yourself from just eating it with a spoon.
You can use the same concept of these pie fries with any of your favorite Thanksgiving pies. Give it a try and let me know what you think.