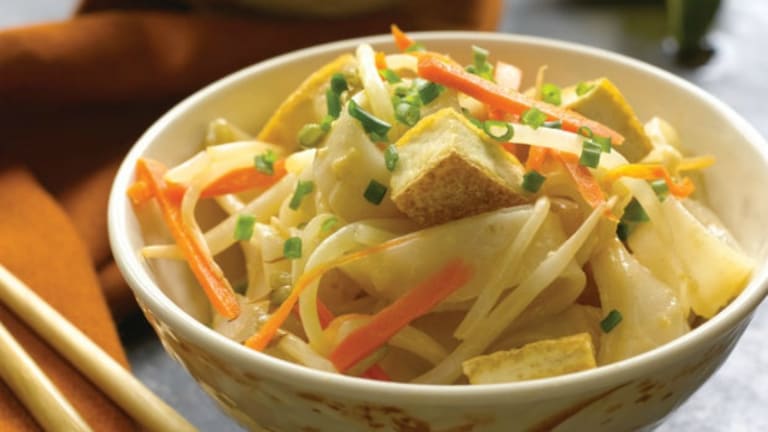 Meatless Lunch and Dinner Recipes
The period known as the nine days, which lead up to Tisha B'Av, a day of fasting, are difficult for more reason than one.  The spiritual preparations leading up to one of the most tragic days on the Jewish Calendar is a hefty burden that includes the physical limitations including a ban on meat. In the hope of easing some of the difficulty of this time, below are nine days worth of meat-less lunch and dinner recipes.
Brazilian Feast
Traditional Brazilian recipes like the Brazilian Onion and Garlic Rice with Black Eyed Peas and Slow Cooked Greens, Brazilian Style pair well with down-home favorites such as Chili Garlic Sweet Potatoes and maybe a small slice of Corn Bread.  This meal would be very filling and is probably best for dinner when the temperature is cooler and you can watch kids fall quickly into bed with full stomachs and smiling faces.
Middle Eastern Spread
These vegetarian recipes work amazing as fresh inspired dinner and as tomorrow's leftovers lunch.  The Middle Eastern flavors complement each other, from the Moroccan Carrots to the Eggplant Tomato Stacks to the hearty and healthy Persian Quinoa with Tadig.
Italian Festa
Depending on the portion sizes served, this meal could work for both lunch or dinner. It is Italian inspired, but with a twist.  Try the Braised and Raw Kale with Pine Nuts alongside the Baked Polenta Fries and Paglia Fieno with Ricotta, Zucchini and Herbs, make it lighter with more zoodles instead of the pasta.
Asian Light Lunch
A very healthy lunch of greens and protein is the theme of this Asian inspired lunch of crunchy Sautéed Sugar Snap Peas and the Tofu and Mushroom Lettuce Cups.
or...
Here's another healthy Asian inspired lunch starting with the Asian Salad with Wasabi Dressing.  Then the tofu stands in for meat and fish in the Miso Glazed Tofu with Soba.
Mexican
The Vegan Portobello Tacos and the Refried Beans are a meat-free Mexican inspired meal that would be great for both lunch or dinner.
Falafel
Avoid the added sodium and calories by making your own falafel at home Homemade Falafel.  Serve it in pitas for lunch or alongside Freekeh Pilaf for Dinner.
Mediterranean
This Mediterranean inspired meal is great for lunch or dinner, get the most mileage by serving the Crunchy Curry Cauliflower with Tahini and Pomegranate alongside Quinoa and Lentil Salad, and Rosemary Roasted Chickpeas, save the leftovers for lunches. 
More Mexican
The Jalapeño Black Bean Quinoa Burgers and Mexican Fried Rice make for a really filling meal.  The textures and heartiness are perfect for midway through the nine days when those meat cravings kick in.
Thai
The Vegetarian Pad Thai is great for lunch or dinner.  Serve it alongside Lila's Lunch Sushi for the refreshing crunch of raw vegetables.
See more Nine Days recipes here.