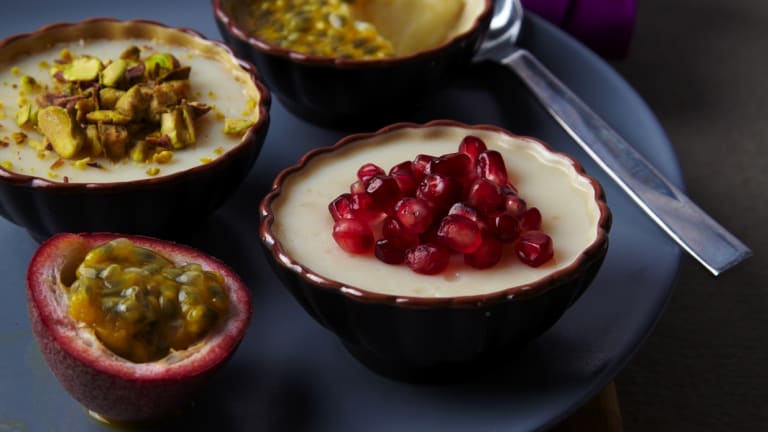 Gourmet Desserts, Israeli Inspiration
It's hard to visit Machane Yehuda and not be inspired!
Jerusalem's Machane Yehuda Market is a literal feast for the senses. Visitors to this outdoor market, or shuk in local parlance, are greeted with the vibrant colors of fresh produce, the guttural sounds of vendors yelling competing prices to passersby, the wafting smells of whatever is in season, and the tastes of rich halva, warm borekas, comforting stews and sweet tropical fruits. If you are a food lover, then a trip to Israel is hardly complete without a stop here.  
Farmers' markets may be the current international food fad, but Machane Yehuda has had a hundred year head start on the modern trend. Founded in the late nineteenth century as an alternative to the crowded markets of the Old City, the shuk has gone through a few iterations before becoming the tourist destination it is today. Originally named Shuk Beit Yaakov, in the early years the market was an unsanitary and chaotic jumble of people hawking their wares. The British cleaned it up and added permanent stalls and roofing in the 1920s, and it didn't undergo another renovation until the early 2000s, by which time it desperately needed a facelift.
On balance, it is probably a bit less authentic than it used to be and serves fewer people's real daily needs compared to 20 or 30 years ago (supermarket and shopping malls have become more numerous) but it is still a real market, not a showcase like many farmers' markets tend to be. 
There are traditional places where the dishes are prepared exactly as they used to be prepared in the homes of Jews from Turkey, Syria, Iraq, Yemen, Libya and lots of other diaspora. 
The following recipes have been inspired by countless trips to the shuk. Hopefully one bite will transport you....
MORE: Israeli Shabbat Menu
Hawaij is a spice mix commonly used in Yemenite Jewish cooking. There are two varieties, one that is used to season soup and another that is brewed with black coffee. Both are available for purchase ready-made in the various spice stalls in Machane Yehuda. Here I have taken the flavor profile of hawaij spiced coffee and applied it to a traditional pots de crème, for an elegant taste of the market.  
MORE: 8 DIY Spice Blends You Must Have In Your Pantry
In Machane Yehuda, Marzipan bakery is famous for their ooey gooey chocolate rugelach. These yeasty, rich rugelach are in the Israeli style and inspired by those you find at Marzipan.  
MORE: The BEST Rugelach in Jerusalem
A common dessert throughout the Middle East, in Israel malabi has become one of the national desserts and is common street food. It requires only a few ingredients and comes together quickly. It needs to chill in the refrigerator to set, making it the perfect make-ahead dessert. It is traditionally flavored with rosewater, but that is an acquired taste so feel free to use orange blossom water or your favorite flavored extract. Malabi is usually topped with a sweet syrup, but I like the fresh flavor and texture that pomegranate seeds and passion fruit bring to the mix.     
MORE: Warm Up With These Hot Middle Eastern Drinks
PEAR APPLESAUCE CAKE WITH POMEGRANATE GLAZE
This festive pareve Bundt cake tastes divine, and is perfect any time of day: for breakfast, afternoon tea, or dessert. Feel free to omit the pomegranate glaze, but I love how it soaks into the cake, and the pomegranate seeds sit like jewels on top. Date honey and pomegranates are two cornerstones of Israeli cuisine and immediately conjure up images of Machane Yehuda.
MORE: You've Never Seen Baklava Like This Before