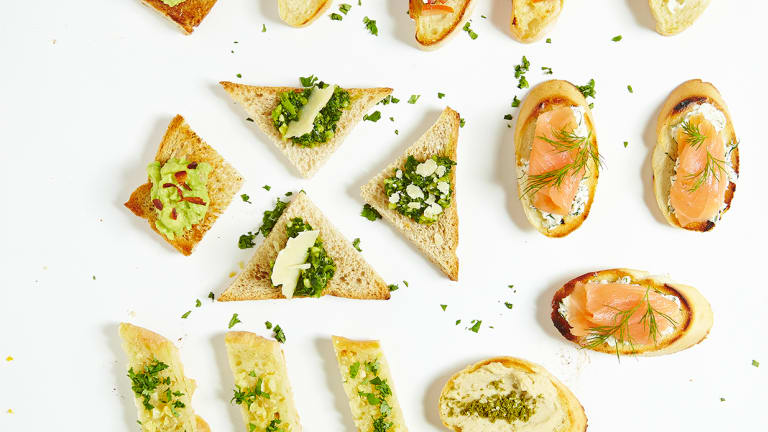 7 Incredible Crostini Ideas: The Perfect Appetizer for a Crowd
When it comes to crostini, everyone has their own favorite toppings. Savory, sweet, cheesy, or spicy, the options are endless. Whether it's ricotta and fig, tomato and basil, or a traditional tomato bruschetta, setting up a crostini bar is guaranteed to please every palate. You can certainly use a store-bought baguette but I highly recommend my super easy No-Knead Artisan Bread. With its crusty outside and chewy center, it's the perfect base for all of your crostini. Simply slice the bread, drizzle with extra-virgin olive oil, toast until warm, and top with all of your sweet and savory toppings. Be sure to have sea salt and olive oil on hand so your guests can top off their favorite choices. 
MORE: 5 Great Holiday Appetizers That Can Double as Dinner
Now that your bread is ready, pick your crostini flavor! Spend just a few minutes in your kitchen and create a fresh, flavorful, and memorable meal with broad appeal...
6. GARLIC BREAD
MORE: Exciting Homemade Dips That are Not What You Expected
Recipes published in JOY of KOSHER with Jamie Geller Magazine Shavuot 2015 SUBSCRIBE NOW
Want stories like this delivered right to your inbox? Sign up now for our *free* JOY of KOSHER Newsletter.