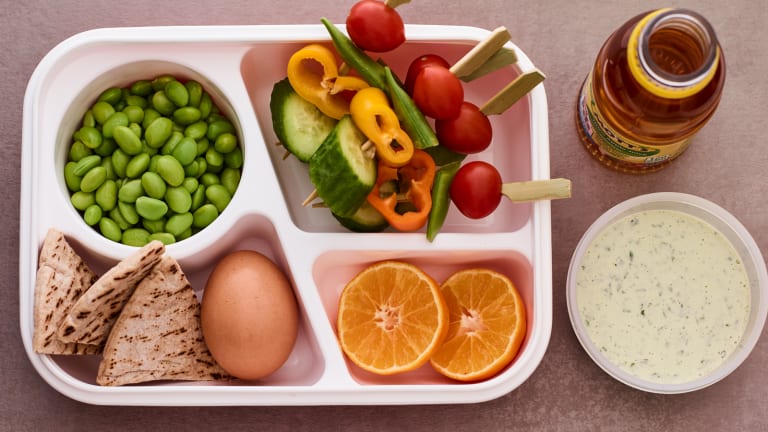 Bento Lunch Box Recipes Are Love Notes To Your Kids
What is a bento box? 
A bento box is a single-portion takeout or home-packed meal common in Japanese cuisine. A traditional bento holds rice, fish or meat, with pickled or cooked vegetables, usually in a box-shaped container. Containers range from disposable and mass produced to hand-crafted lacquerware. Japanese homemakers often spend time and energy on a carefully prepared lunch box for their spouse, child, or themselves.
Bento box lunches are FUN! Rewarding an exceptional test result, a break-out from the sandwich routine, or just because you love them, bento box lunches are special and tell the recipient just how much you care.
The more you add to the box, the more exciting it is when your child sees it. The add-ins don't have to be complicated. Some frozen and thawed edamame can be a delicious break from the usual carrot and celery sticks. A sandwich cut with a cookie cutter into an animal shape and decorated with raisins and dried fruit is an exciting break from the usual sandwich. Leftover turkey or chicken breast slices that are tossed with your child's favorite vinaigrette and arranged beautifully is exciting and fun. Add chopsticks and your child will be smiling all day.
Tools: sectioned lunch box or cupcake liners (either disposable or reusable), small re-sealable containers that fit in a larger container, upside down giant Lego pieces that fit into a lunch box…you get the idea. You need small containers that can hold the edible components of the FUN lunch!
A typical bento box might contain: noodle or rice salad, crudités, sandwich or wrap, hard-boiled egg, fruit, mini smoothie, or apple sauce.
Here are only some ideas for an exciting bento box lunch. Your imagination can run wild with the possibilities to excite your child about lunch time.
BREAKFAST FOR LUNCH BENTO BOX 
Challah Cinnamon French Toast with Maple Syrup
Apple slices (toss the apple slices in lemon juice and water so they won't turn brown)
Dried fruit
Juice box or milk
SUSHI-ISH BENTO BOX
Thawed edamame
Cucumber slices
Dried fruit
Juice box
THE VEGGIE PROJECT BENTO BOX
Hearty Veggie Skewers with Green Goddess Dip
Sliced fruit
Thawed edamame
Pita triangles
Hard-boiled egg
Juice box or milk