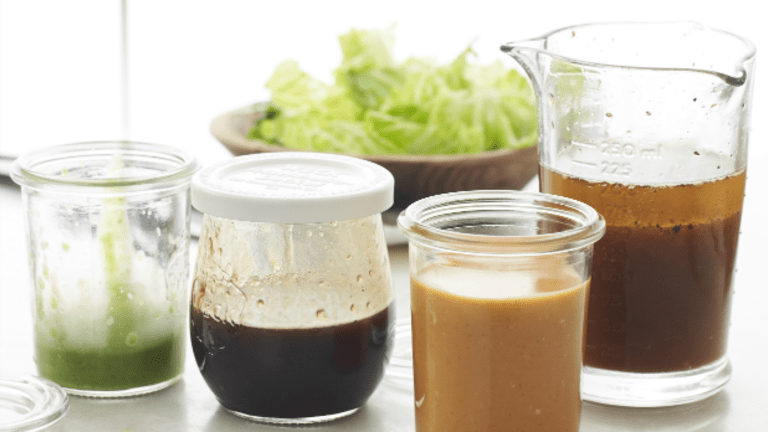 Say Goodbye to Boring Salads! DIY Zesty Salad Dressings
Salads don't have to be boring. And when you make your own zesty dressings, the flavor possibilities are endless. These DIY dressings can also be used as dips for finger food, or marinades for chicken or beef. 
MAYO FREE CREAMY PESTO SALAD DRESSING
This Mayo Free Creamy Pesto Salad Dressing can be used in so many ways! From a dressing on salad, a base for a crisp cabbage slaw, or even as a marinade on chicken and fish.  
Salad Pairing Inspiration:
MORE: How to Make the Perfect Pesto
ASIAN CARROT GINGER SALAD DRESSING
This dressing Asian Carrot Ginger Salad Dressing is refreshing over chunks of iceberg lettuce and shaved radish, just like the house salads in every Chinese restaurant!    
Salad Pairing Inspiration:
 I created this Honey Balsamic Salad Dressing recipe when trying to replicate the same creaminess you'd find in a mayo based balsamic dressing. This is a delicious healthier alternative!       
Salad Pairing Inspiration:
MORE: How to Build a Healthy Salad
Tzatziki can be served as a dip or dressing depending on the thickness you choose, and can be made with mint or dill. I personally serve this recipe over warm brown rice with a side of lemony coleslaw.
Try it With:
The bright flavors of this vinaigrette really make a salad POP. Because it is a puree, I like to spread the vinaigrette on the bottom of a platter, arrange my salad ingredients on top of it and then dress the top of the ingredients very simply with really good extra-virgin olive oil and sea salt. That way, the leaves do not become soggy and overdressed.  
Salad Pairing Inspiration:
Try this sweet and zesty vinaigrette on more than just salad – it's great over veggies, as a marinade, or even as a sandwich topper. Savannah Bee Company's rare Tupelo Honey adds a light, floral note that is unlike any other. Double the batch and keep some extra on hand to liven up almost any dish. 
Salad Pairing Inspiration:
Want stories like this delivered right to your inbox? Sign up now for our Joy of Kosher weekly newsletter.