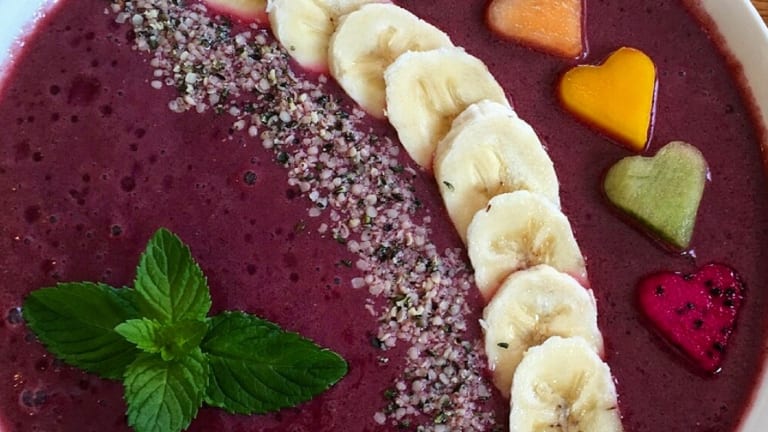 Super Food Smoothie Bowls You Must Try
Every month JOY of KOSHER brings you the latest in cooking trends and delicious foods, straight from Naomi's kitchen in NY. A personal chef and caterer, Naomi loves bringing people together with good food!
WHAT'S COOKING IN NAOMI'S KITCHEN?
What are Smoothie Bowls?
Smoothie bowls have become one of the latest healthy food trends and here's why: You get the creamy and refreshing smoothie on the bottom and the hearty fruits and nuts over the top to keep you satisfied throughout your day. 
All you need to do is blend your favorite fresh fruits with some water, fruit juice, yogurt and even protein powder until its smooth, then top it with nuts dried fruit seeds granola and more! 
What to put in your bowl?
If you're looking for a substitute for bananas in your smoothie bowls, pineapple and papaya work just as well, just make sure to blend with less water. You do not need unhealthy sugars to sweeten up your smoothie bowls; instead throw in 5-10 grapes or 3 dried dates for a healthier option. 
Prep ahead tip
For those of you who have less prep time in the mornings, you can easily blend your fruits ahead of time (without any liquid) and freeze in batches with ice cube trays or small ziplock bags, and whenever you're craving a smoothie just blend your frozen smoothie packet with some water or orange juice and top with whatever you've got on hand!  
MORE: DIY Breakfast Essentials
MORE: 4 Iced Teas to Keep You Cool and Rejuvenated
CHOCOLATE BANANA SMOOTHIE BOWL
MORE: 5 Ways to Reduce Belly Fat
Stay tuned for more recipes from Naomi's Kitchen...
Want stories like this delivered right to your inbox? Sign up now for our *free* JOY of KOSHER Newsletter.