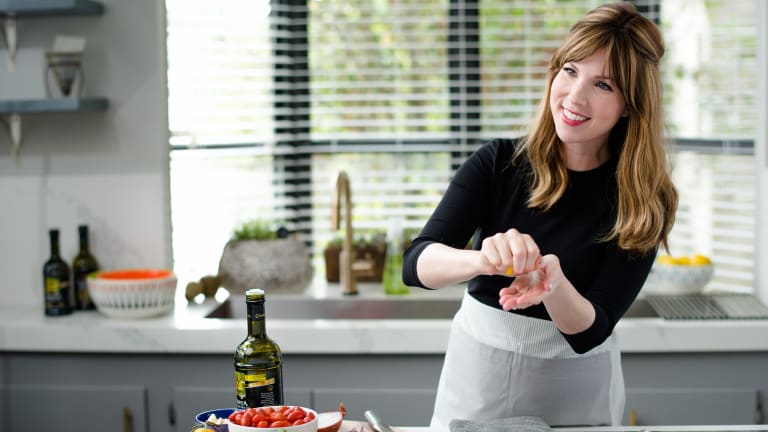 My Can't Live Without List of Kitchen Gadgets
A GREAT SET OF KNIVES
If it seems macabre to you to stock up on these lethal-looking implements, get over it. Use the right knife, and you'll find yourself cutting not only foods, but the time it takes to get them to your table.
There are many kinds of knives, but the essentials are:
Chef's knife (8-inch)
Utility (all purpose) knife
Serrated (bread) knife
Paring knife
Carving (slicing) knife w/ 6-inch fork
FOOD PROCESSOR
Perfect for everything from blending dressings to grating potatoes for a kugel that serves 16. A mini processor is terrific for small jobs, like dicing one or two onions (without crying), but if you can only invest in one go for the biggie.
HAND OR STAND MIXER
Unless you are a serious baker (a one-woman-bake-sale kind of gal) a good hand mixer will take care of all your blending tasks, and it'll fit in a drawer. A stand mixer is much more expensive, but it can handle heavy-duty or higher quantity mixing needs, with the added convenience of keeping your hands free.
GLASS AND CERAMIC BAKEWARE
Baking and serving in one dish is quick and convenient. These cooking and serving pieces are attractive, versatile and easy to clean, too.
A FAMILY HEIRLOOM PAN
A cooking utensil that has stood the test of time and is known to bake a certain dish just right. I cannot bake the famous Geller challah kugel without my father-in-law's grease stained old pan. I'm sure that pan brings me mazel: challah kugel was one of the first dishes I got right. If you're not in possession of an ancestral pan, it's up to you to create one for future generations!
DEEP FRY AND INSTANT-READ DIGITAL THERMOMETERS
End the guesstimating game. (Is it done yet?) This handy tool will tell you when your oil is that perfect temperature, and when your meat is good to go.
Now that you got it, what can you fry?
15 Fried Sweet Treats To Satisfy Anyone and Everyone
SLOW COOKER
The ultimate quickie cook's cooker. Dump in the ingredients and let it to do all the work for you, while you do whatever it is that you do out of the kitchen.
See our selection of slow cooker recipes.
INSTANT POT
The fast cousin of the slow cooker. This ultimate, on-trend, all-in-one kitchen essential handles everything from pressure cooking and sautéing to slow cooking and making yogurt, cakes and preserves in a fraction of the time. The future is here folks!
Make Dinner in an Instant Pot.
KITCHEN TIMER AND ERASER BOARD
When you're preparing five different dishes at once, the timer and eraser board will help you keep track of cooking times—and your sanity.
Tongs
Like an extension of your hand, tongs may be the most useful and versatile kitchen tool you will ever buy. I recommend having a drawer full of tongs in all shapes and sizes. They come in especially handy when dealing with raw meat or piping hot foods. Extra-long tongs are a must when grilling, and shorter tongs are practical for serving at the table.
Digital Food Scale
I initially bought this for recipe testing and development and it has quickly morphed into a kitchen counter staple. Especially helpful when scaling baking recipes I have become quite popular on the block with neighbors always asking to borrow it.
YOUR HANDS
A real chef's best tool is his or her hands. Good chefs get down and dirty, mixing and kneading with their bare hands. Just make sure yours are super duper clean!
P.S. I also asked Tamar, nutritionist & recipe developer for our Fresh Families meal plan, to share her top two, can't live without, kitchen gadgets so this list is super well rounded and even more gadgety! Go, Go Gadget Go!!!!   
Tamar's Kitchen Must-Haves:
EXTRA LARGE SHEET PANS
Even before the sheet pan dinner craze I invested in large sheet pans so I could roast lots of veggies on one pan. Vegetables roast better when they have more space around them. I suggest measuring your oven in all directions and getting the biggest one you can fit, then buy a few extra.
Get started with 7 Sheet Pan Dinners
JULIENNE PEELER
I still haven't gotten a real spiralizer yet, instead I am always using my peeler to make vegetable spaghetti. It takes up less space and is easy for me to use for large piles of veg or just a garnish.
ESPRESSO MACHINE
I have to add one more, because this gadget has literally changed my life. After many years using a French Press with inconsistent results, I finally invested in a high end espresso machine and now I prefer my homemade cappuccinos over most cafes. If you love coffee or espresso it is a must buy.