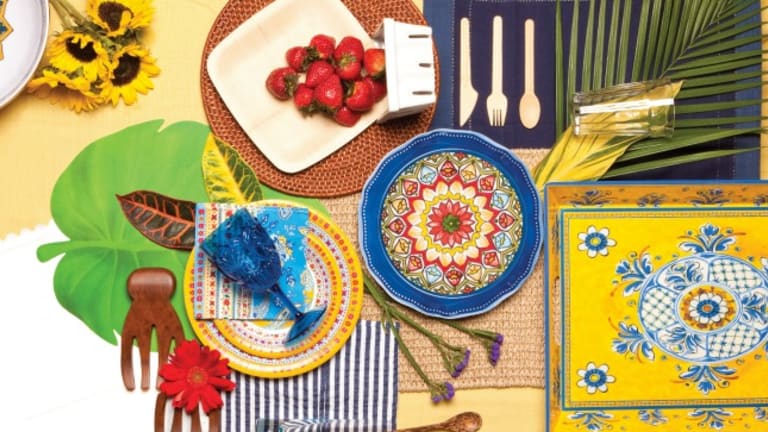 Outdoor Tablescape Ideas
Let's take it outside!!
The sun is shining, the trees are swaying, and your garden is in full bloom, so why are you dining indoors?
Draw inspiration from warm climate locales where the balmy weather allows for a fusion of indoor and outdoor living.
Start with... Mediterranean Inspired

Choose an outdoor spot with easy access to the kitchen. 
Place your table and chairs out of direct sunlight. 
Set the scene with comfortable cushions, plants, lighting, and casual linens.

Keep it Going... Nature's Palette
Inside, you may rely on a neutral and reserved décor, but dining outdoors is your opportunity to bring on the color and bold patterns. 
Take your cues from nature: 
Blue skies and sea, green grass, flowers in bold reds and yellows. Choose festive patterned tableware with Mediterranean flair in practical materials for outdoor use.
Fill in the blanks…Earth Friendly Options
Give thanks to nature and incorporate organic and compostable items into the scheme.
GET THE LOOK
Farm to Table
Serve fresh picked berries or tomatoes in this vintage inspired porcelain berry box.
and
Utensils and plates made of birch and bamboo are fully compostable.
Polycarbonate drinkware is nearly unbreakable by Le Cadeaux.
Talavera salad plates feature traditional Mexican pottery patterns reinvented in melamine.
Le Cadeaux's Benidorm tray, constructed of triple-weight melamine, has the look of hefty stoneware.
Expecting a crowd?  Disposables with your favorite colors, browse BostonInternational.com
Stir it Up!
Hand carved wooden iced tea spoons
Give a hand
Bamboo hands fit yours for tossing and serving salad with a clever design to keep them from slipping inside the bowl.