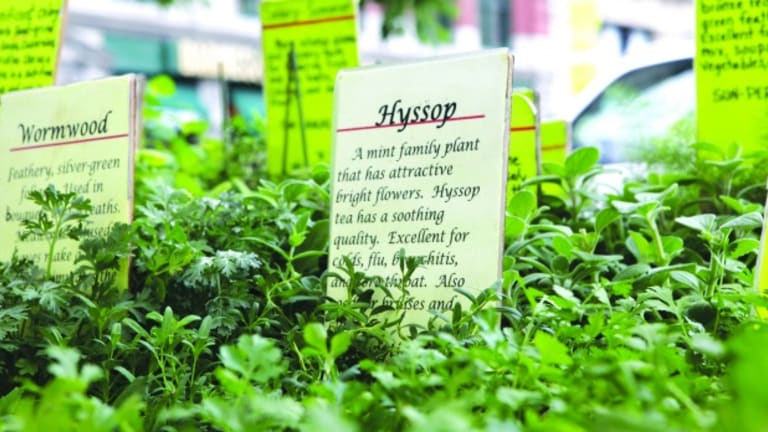 How To Grow Your Own Garden
Whether you're planting window boxes or an outdoor kitchen garden now is the perfect time to get started on the summer growing season.
Eating locally is a hot topic in food circles these days. Restaurant chefs have long known that to serve the freshest ingredients, you need to choose items that are grown or raised nearby. Many chefs have entered into partnerships with local farmers to ensure steady supplies. But you don't have to be a chef or a farmer to grow your own. In honor of Earth Day and the start of the spring growing season, I want to share some ways you can start to go and grow local.  
Not into gardening at all or don't have any space, how do eat local? 
Choose local Farmer's Markets for as much of your produce as much as you can, sometimes you can even get to know the people that grow the food you eat.  You will find that your cherry tomatoes taste a lot more like cherries than the tasteless red circles that sit in cruel, soft plastic cages at the supermarket. Your fingerling potatoes and yams will still smell of the earth and the yolks in your cage-free, farm-raised eggs are so bright you need to bring sunglasses to breakfast.
If you're lucky you might be able to find a local bee keeper to source your honey.  You also might find fruits and vegetables you can't find anywhere else.  
If you are up to the task start your own garden.  
What's the best way to get started with a kitchen garden?
It all depends on how much space you have. If you're in an apartment or townhouse and don't have a lot of outside space, an indoor herb garden maybe the perfect choice. You don't really need much space at all and with a little soil, water and sunlight, you'll have delicious, fresh herbs. The best thing about an indoor herb garden is that you can grow it year-round. Herb plants are readily available at grocery stores and garden centers. You can also find seeds for less commonly available herbs online. Favorites are chives, thyme and oregano, but you can also grow things like basil, arugula or other greens, which are perfect for salads. It is really amazing what you can grow in your window or a balcony.
For those that have a little more outside space, consider a square-foot garden.
How does a square-foot garden work? How do you plant one?

Well, just like the name implies, square-foot gardens use very little space. The concept was popularized by Mel Bartholomew. It uses intense planting of compatible types of herbs and vegetables close together in a 4x4-foot open-bottomed box divided into 16 one-foot squares. You need less soil, less water and the close proximity of complementary plant species help with weed and insect control. Depending on the size, you can grow between 1 and 16 plants per square. That means that a 4x4 box could yield an entire season's worth of food. The best part is you can place your box in a garden, on a deck or on a raised table.
You can create an urban oasis with eggplants, peppers, tomatoes, strawberries, and a variety of herbs.  Get your kids involved they will enjoy watering and even talking to the plants.  You will all love to see the plants grow and flower and produce food you can eat. 
Having a garden is great for stress reduction and can even fill a void for those who's kids have left home. 
Even if you don't have space, there are community gardens across the US where you can get a section for your green thumb and there are also CSA's where you can invest in your local farm and get part of the fresh produce every week.  
Awesome! What about timing? It's still pretty cold in a lot of the country.
If you're planning to plant this season, now is the right time to get seeds started indoors. That way, your plants will be ready to be transferred outside when it warms up. Edible flowers, greens and bulbs like green onions and garlic can all be started now. Use soil mixed with peat and vermiculite, a sunny spot, good humidity, and take plants out for a couple of hours each day to acclimatize them before moving them outside permanently. This is called "hardening off."
Just make sure to start small, you don't have to rip out your backyard to start enjoying the fruits (and vegetables) of your labors. Start with your favorite herbs such as basil, mint and rosemary on a patio or counter. These are low maintenance herbs and great to have around the kitchen.
There are also some products for budding green thumbs who have to put dinner on the table and get the kids bathed and to bed.  Check out the AeroGarden, they have many choices in all different price ranges to grow a small garden even without sunlight. 
Using rosemary, basil, parsley, thyme, mint, sage, and chives grown in your little herb garden, you will find your dishes taste more alive. The fragrant aromatics will fill your kitchen and the next time you make pasta with a pesto sauce from fresh-picked basil, you will hear everyone say "wow". 
Whether you decide to grow your own or just make an extra effort to select fruits and vegetables from local sources, you will connect more closely to what you eat and gain a deeper appreciation for the people who bring your food from farm to table.
Enjoy your gardens everyone and let us know what you planted by leaving us your comments.
Selected Resources:
American Community Garden Association
Montreal Botanical Garden Green Pages
NY Botanical Garden Home Gardening Online