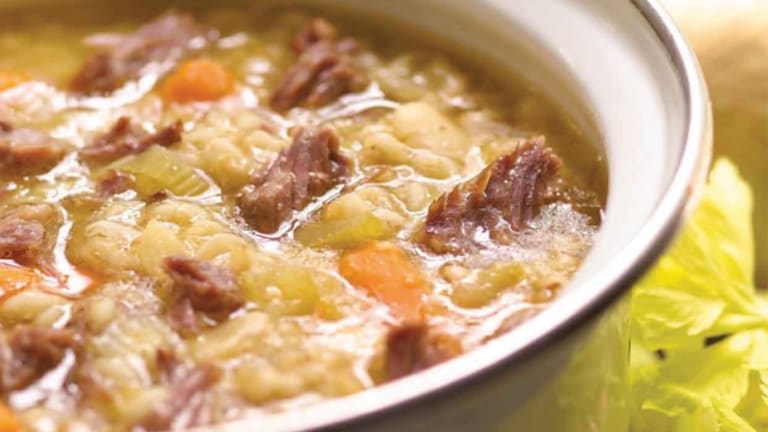 Celebrate Family History Shabbat Menu
In this week's parsha, Moses gathers together the Children of Israel and recounts our history from Egypt to Sinai to their dramatic approach to the Promised Land.  We are a people bound by our history, the parts that we will always remember and that which we would rather forget.  Our Jewish experience is filled with moments that connect us to the past.  This week's Shabbat menu highlights  a part of my family history, with a cookie recipe from my Savta that I have used as a base for anything from hamantaschen to rugelach to just decorating with the kids and Jamie's Beef Porridge (a little warm for this time of year, but can be a one pot meal), hailed as a Geller classic.  B'tayavon!
The Weekly Challah
Pecan Crusted Mustard Maple Salmon
Since the main is going to be a bit hot and heavy, we will start with something light and fun.  This dish combines something for every palette: The sweetness of the maple marinade, the barbecue flavors of the pecan blend, and the fresh salad of shaved asparagus, nectarines and mint. 
Grandma Martha's Beef Porridge
A Geller Classic, passed down from Grandma Martha, this is a perfect satisfying soup. It was by special request that I learned how to make it.  After cooking for 3 hours, the flanken gets so soft it just melts in your mouth. This hearty soup could be a meal with a nice, thick slice of challah. 
I just like green beans as a side when not sure what else to serve, what about you?
Enjoy these family heirloom simple cookies with a nice cup of tea or use the dough to make rugelach style cookies by spreading nutella or jam in the middle and rolling them up before slicing and baking. Think of your savta (grandma) when eating them.