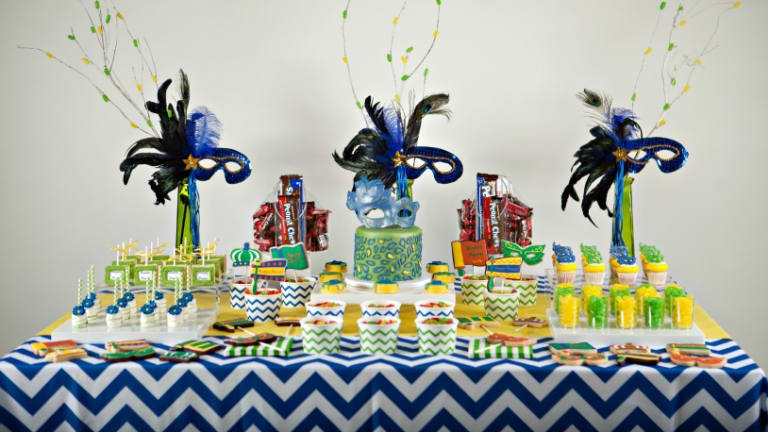 How To Decorate A Party Sweets Table
Every party or Purim Seudah needs a dessert table. The best way to decorate for your party is to invest in the sweets. Now you can create a designer worthy display with these simple tips and tricks.
The first step in any party plan is to come up with a theme. Both a concept and a color or colors to enhance the table.
This party shows a twist on traditional Purim masks and groggers. Set a table with bright contrasting colors, like this blue and white chevron cloth paired with the yellow runner for a pop of color.
Use a customized, matching cake as the focal point of your table.
Get matching miniature cupcakes.
Lucite trays work to modernize the table and add height. Display color-coordinated Rice Krispy Treat Pops.
What's a party these days without cake pops.
Color-coordinated candies can be placed in plastic 2 section shot cups, those plus extra
candy packages can be used as party favors for adults and kids.
Get extra decorations like these blue and green vases at your local dollar store. Use a hot glue gun to add candies to white branches to complete the table.


Thank you to everyone that helped make this beautiful table.
Table design by Chava Chase from Pret_A_Partee
Photos by Esti Photography
Lucite containers from HouseofLucites
Tablecloth rental from B & B Party Goods in Lakewood, NJ
Customized mini cake from Cup of Cake
Graphic cookie pops from PickACookie