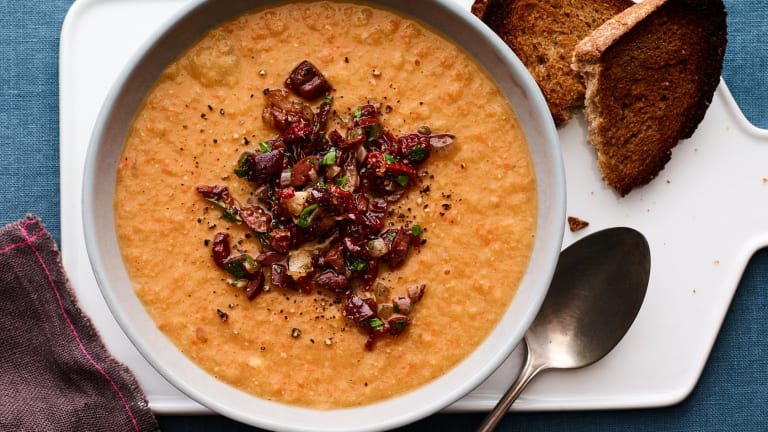 Italian Pottage Shabbat Menu
Each year when we arrive at this parsha, I try to make the perfect pottage. And every year it gets even better.  Jacob must have been a great cook, creating a lentil dish so aromatic that Esau would cast off his birthright like a raincoat. 
If you are trying to imagine a stew as delicious as that, here is our Red Lentil Soup with a Sun Dried Tomato Relish - a totally different Italian flavored soup with fennel and tomatoes, it is so good.
RED LENTIL SOUP WITH SUN DRIED TOMATO RELISH
This soup can really be a meal in itself, but tonight we will serve it as a first course and keep  the rest of the meal light. Make extra of everything you will want to have leftovers for the week. 
CHICKEN WITH OLIVES AND CAPERS
This dish can be made with items you have on hand when you don't have much time to prep and plan.  The lemon juice tenderizes the chicken and the salty capers and olives mix with the juices to create a sauce.  You can use chicken thighs or buy a whole chicken and cut it into pieces.
MEDITERRANEAN PASTA SALAD WITH EGGPLANT
The perfect side dish for this Italian dinner is tons of roasted veggies with pasta.  Leftovers will be great all week too. 
Make this cake in a slow cooker for a unique taste and comforting texture and a hot dessert on a cold Friday night, but if yours is being used for lunch go ahead and bake it in the oven. 
Serve the cake with a dairy free Mocha Tortoni Mousse if you want to go even more Italian.