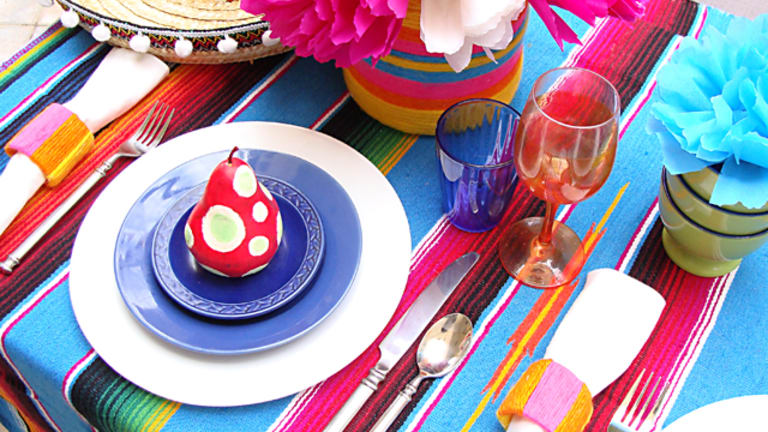 A South of the Border Purim Seudah
Call it Mordechai in Mexico... or a South of the Border Seudah.  It is time to plan a Purim Party!  We teamed up with some friends to create a fantastic fiesta with everything from (crepe paper) flowers to flan. Ole!
Set the scene with the right tablecloth, or in this case, a Mexican blanket decorated with some bright crepe paper flowers.  If you can't find a Mexican blanket, any colorful woven table cloth will work.  
Bring out all your colorful dishes, paint some whimsical styrofoam fruit (which you can turn into a placeholder by adding a flag or tag tied with some twine or string) and decorate some wine glasses.   Add napkin rings from plastic bottles and throw crepe paper flowers into a recycled bleach bottle vase and sprinkle a few flowers across the table.
To complete the look, hang some Mexican sombreros (now available for Purim at costume stores) some crepe paper streamers, and some papel picado (Mexican tissue paper banners) if you can find them, or make some yourself!  And of course, don't forget a sweet-filled Pinata -- the perfect finale for your fiesta!
When your guests arrive start them off with Salsa, Chips and some Papaya Guacamole.
Serve some Watermelon Mango Margaritas for the adults and Mint Orange Agave Coolers for the kids.
Then sit down to a seudah fit for a King or Queen with Grilled Southwestern Steaks with Spicy Corn, Chicken with Mango Ginger Salsa, Roasted Vegetables, and Ric or Jamie Geller's favorites: Corn Salad, Mexican Brisket, Stuffed Poblanos, Mexican Pasta, and finish with Banana Chocolate Parfait
End the feast with CouldntBeParve's Flan.
Don't forget the Mexican Mishloach Manot!  Lay a colorful napkin in a basket and fill with Homemade or Store Bought Salsa, Chips, Beans, Rice, and Dulce de Leche Hamantashen.
To make these whimsical styrofoam fruit:
You'll Need:
styrofoam or paper mache fruit
acrylic craft paint
wooden skewers
a protective coat of acrylic varnish if you'll be using this outdoors
How To: Since my fruit are made from styrofoam, I stuck a skewer into the bottom of each one, so that I could paint the fruit on all sides and avoid touching it while it was being painted. I did not paint a base coat of white over the existing color of the fruit, but if you want to paint the fruit pastel colors, so that would be a good idea, and you can certainly do that with white spray paint. Other than that, well, paint the fruit a base color, and when that is dry paint the details—polka dots, stripes, dashes, you name it! And I do think that these fruit would look great hanging as a mobile, or strung on a string, then again, you could also glue them onto a big straw hat for a great costume!
To make the Recycled Beach Bottle Vase:
You'll Need:
an empty bleach container, or really any large plastic bottle (like fabric softener or other household cleaning fluids); it doesn't have to be round
a fun combo of yarn in a variety of thicknesses and colors
a hot glue gun
How To:
Cut off the top of your bleach bottle with a large sharp knife, and then use a pair of sharp scissors to trim the bottom section so it's an even height all around. (Make sure to wash out the bottle!)
Attach the first piece of yarn with a dab of hot glue at the end and start wrapping, adding very small dots of hot glue along the way. Change colors as desired, wrapping the whole height of the bottle.
That's it! If you'd like to use this as a basket as opposed to a vase, you might want to finish the top edge with a strip of felt that's glued to both the outside and the inside in order to hide the upper rim.
Have fun wrapping all the cans and bottles you can get your hands on, and create a stunning table grouping them in rows or other more creative designs.
Here are the links to the other craft projects written about above from CreativeJewishMom:
napkin rings from plastic bottles