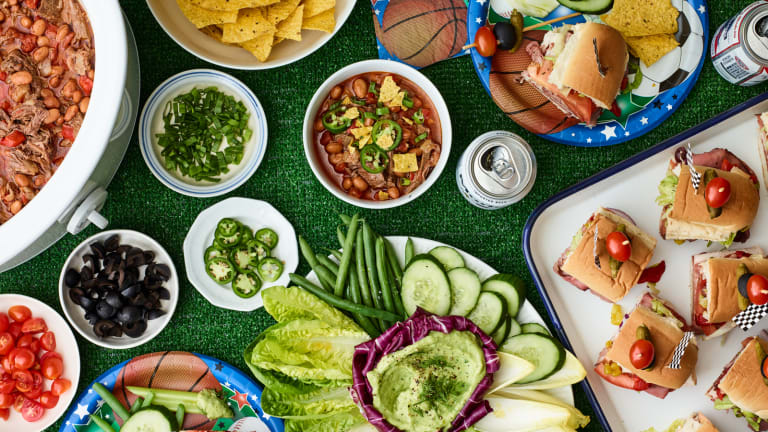 Our Purim Seudah Theme Is Sports
Every Purim we develop lots of creative themed menu ideas.  We love to infuse our costumes, mishloach manot and seudah menu all with the same theme.  This year our chosen theme is SPORTS!!!
Whether you are cooking for 4 or 20, these classic sports foods are sure to win over your whole crew.  Even if you don't like sports you will love these recipes.  This menus is best set out as a buffet where everyone can pick and choose their favorites.  
Here is how to set your table:
1. Use your favorite team's colors for the table cloth
2. Fill large glass vases with mini sports balls, you can even top the vases with some of the bowls of snacks
3. Lay out lots of extra snacks like potato chips, pretzels, and peanuts in the shell
4. Skip the cocktails and stick to beer
5.  Cook this menu:
We always recommend extra veggies and this platter is perfection on a plate and gives everyone something to snack on without the guilt.  The colors are vibrant and will make the table pop. 
Set this up in the morning and it will infuse your home with its enticing aroma.  Make extra so you can give samples to all your friends who drop off mishloach manot.  Set the slow cooker on the buffet to keep it hot.  Lay out plates of hot dogs in buns and tortilla chips as well as all the optional toppings like avocado, green onions, and radish. Everyone can make their own chili dogs or meat nachos. 
This is the centerpiece of your table.  Easy to assemble and an all time favorite.  Lay it out along the center of the table cut into easy to pick up pieces with colored toothpicks to hold them together.  
Add your favorite slaw to the table, ours is red cabbage with mango and jalapeno for gorgeous color and sweet flavor profile.  
We hope you love our sports party. Stay tuned for dessert...