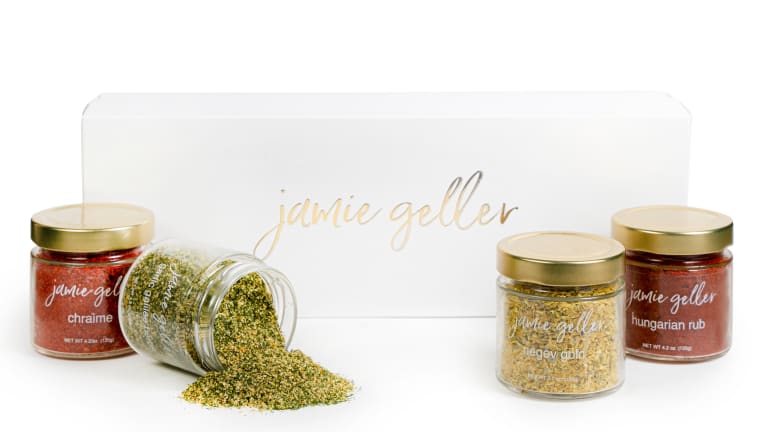 Passover Gift Ideas
The past year has been one of many changes to our everyday life, to the way we celebrate holidays and to how we connect with our friends and loved ones.  Last year, as the Covid pandemic swept across the world most of us celebrated Passover alone (as an immediate family, couple, or single).   The most popular article on our site was How to Have a Passover Seder for Two because no one wanted to risk getting their grandparents sick and at the end of the seder we all sang "L'shanah haba'ah b'Yerushalayim" with even louder voices than ever as we hoped and thought that we would all be together next year.  
Now, it's a year later, and things are looking a little brighter and hopeful, but we're still not in the clear and travel is still "up in the air" so if you can't be with your loved ones for Passover at least you can send a gift and even if you're lucky enough to be with others for seder, you might want to bring or send a nice hostess gift.    
FOOD
Food gifts are the best because you can never have too much. We highly recommend our Passover spices gift box and not just because it's ours.  Just look at the gorgeous colors and just think that everyone needs new spices for Passover, so you are getting them something they really need and will use.  Plus, it's available on Amazon, but it is in short supply, so order now!  - Jamie Geller Spices for Passover gift box
Mrs. Maisel fans will go crazy over these kosher for Passover macaroons in a decorative tin.  This one doubles as food and kitchenware because the tin can be used for homemade goodies after the macaroons are finished. -Mrs. Maisel Tin Canister of Macaroons
Honey is delicious on matzo and in your tea and in your charoset.  This gift box of 3 honeys form Israeli will make anyone happy. -Holy Land Honey Gift Box
Kosher for Passover tea box with 90 tea bags also makes a perfect gift that can be used all year round. - Magic Tea Chest
Gefilte fish is a Passover mainstay. This year give the gift of gefilte, this one is colorful, delicious and responsibly sourced.  - Gefilteria Gefilte Fish
GAMES/TOYS
If there are kids in the house they will love these sticker books about Ella and Noah, the perfect Afikoman gift for all the kids at the table and something to keep them interested even through a long seder.  -Ella and Noah Celebrate Passover
Everyone loves a great seder game especially one for the plagues, bring this to your seder and you will surely get some laughs. -10 Plagues of Egypt Set
HAGGADAHS
Some people use the same Haggadah year after year and work to make sure everyone at their table has the same one, while others enjoy adding a new one to their collection every year.  Even if you don't use it at the Seder, every Haggadah is unique and offers new insights to help you plan your seder or just read about our history from a different perspective.
One of the newest on the scene is this modern take by the editor of Tablet Magazine, this one is for your more modern friends looking for some interesting insight -The Passover Haggadah
This is the first Haggadah that combines the teachings of three modern Rabbis from the 20th Century.  Get stories from Rav Kook, songs from Rabbi Shlomo Carlebach, and teachings from Rabbi Soloveitchik.  Don't miss the questions to help engage your seder guests.  -The Night That Unites
This one is not an actual Haggadah, but can offer some new excitement to your seder.  Many people like to do games and skits to get the children involved and even keep the less inclined grown-ups interested.  This book of plays and parodies will help get everyone engaged. - Passover Parodies
This Haggadah is a new modern-looking, bright, and lively book.  It might be a little harder to read some of the sections, but it is worth it for the illustrations and fun colors. -Pop Haggadah
SEDER DECOR
There are many kinds of gifts that hosts would appreciate to decorate their seder tables.  From seder plates, to Eliyahu cups, to Afikoman holders you can find a great gift for local artists or Etsy. 
This Passover kit is the perfect gift to first time hosts, everything you really need all lin one package. 
What gifts have you given or gotten on Passover, share your suggestions in the comments below.