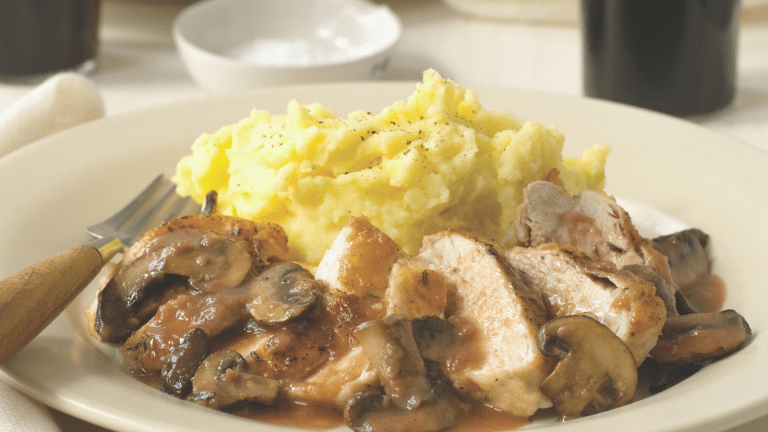 Passover Seder for Two
Editor's Note: The menu and most of the tips below will also apply for a Seder for One.
We've been getting lots of requests from people planning a seder for the first time ever or the first time in a long time and many who will be having that seder for two.  When cooking for two it's hard to justify cooking a whole brisket or even a whole chicken, so here are some refreshers for how to plan for your seder plus menu ideas for your smaller seder.  
First, because my Mom keeps asking me where she can get a Hagaddah, I want to remind you now, that if you don't have a hagaddah, order one now!  You can get one from Amazon if they have any that will ship fast enough or try calling your local Judaica store or worst case you can find something to print online, you don't have to spend a lot of money, but you do need something to walk you through. 
Now, what about the seder plate?  I have our Seder checklist here with everything you need to remember, but here I am going to include a quick rundown of all the options for your seder plate.  Remember, just because you usually use celery for karpas, doesn't mean you have to use that. Usually, it is best to use whatever your family custom is, but this year with many ingredients hard to come by you can use what you can find.  So here are a few options. 
Maror and Chazeret: Romaine lettuce, endives, or horseradish
Zaroah: lamb shank bone, chicken thigh or chicken neck roasted/burnt
Charoset: Charoset Recipes From Around the World
Carpas: potatoes, celery, raw onion, radish or parsley
Beitzah: hard-boiled egg that has been burnt
Now, for a seder menu for two
Since chicken might be harder to come by right now, go for this vegetarian chicken soup and follow this matzo ball recipe to make enough for 4 people.  This way you have enough for two seders. If you don't like spice, just leave out the harissa. 
Either buy a jar or make a simple gefilte fish from a frozen loaf and enjoy leftovers for a few days. 
CHICKEN
Hoping the stores by you have enough chicken to make this freezer-friendly chicken marsala.  Just use potato starch in place of flour and package leftovers in individual containers to eat later in the week.  Serve with Garlic Mashed Potatoes and some simple steamed or roasted cauliflower or broccoli. 
If kosher beef is even available, go for ground beef for a less expensive option that can be stretched for meatloaf.  Make this BBQ Meatloaf with matzo meal instead of breadcrumbs. It can also be frozen in individual portions.  
If you can find a turkey breast, try this simple and flavorful Southwestern Style Turkey Breast, just enough for 2 with delicious leftovers. If you don't like mashed potatoes try Sauteed Quinoa. 
DESSERT
For dessert, make something super easy that can also stay in the freezer and you can enjoy individual portions all Passover long.  I love these Pesach Fingers and also the traditional macaroon is always easy and delicious. 
Not sure how to go about the actual seder with only 2 people? Wondering who will say the 4 questions and who will find the afikoman? 
My Father, Rabbi Paul Plotkin, who won't be able to be with any of his children or grandchildren this year shares eight tips for how to conduct a Seder for Two.
1. Alternate who chants the Four Questions each night (for Diaspora Jewry). Pretend you are a kid again. Be honest. You probably never thought you would ever be called upon to chant it again.
2. Sing throughout the Seder unabashedly, out loud and at full voice. Most of us can't sing well and are usually embarrassed to sing in public. At this Seder, who cares if you sing off-key. Singing brings joy and may take our minds off of why we are alone.
3. Delve deeply into the Hagaddah. Start by preparing ahead. If you have extra time on your hands now, start going through the Haggadah now. Make lists of questions and jot down topics to discuss later. At the Seder, ask each other questions, and take time to search for the answers.
Bring at least two different Haggadot to the table if possible or bring printouts from online with different commentaries to enhance your mutual understanding of the Seder night and the story of our people.
4. At the Seder, read everything out loud in whatever language you are most comfortable with and rotate the reading. Typically, chanting the text may make the experience personal and private, but here with just two at the table, we crave the opposite. We want to create a shared experience and focus on who is here, rather than who is missing.
5. What about the afikoman? There may not be a need to hide or search for the Afikoman, but it could introduce an element of fun to hide from your spouse or significant other and "bargain" for its return to the table.
Maybe you want to promise a special Afikoman gift for the grandchild who finds it in their home. It will guarantee an immediate post holiday phone call from a grandchild who can't wait to claim their IOU.
6. Drink up! Drink a full measure of the 4 cups of wine, if you are able. With many in quarantine, and some synagogues closed completely, you can sleep a little later in the morning this year.
7. The 10 Plagues. No need to ignore the elephant in the room. When you get to the 10 Plagues, after taking off a drop of wine for each one, pause to share your fears and insecurities as we live through the worst plague of our lifetime.
8. Leaving on a prayer. When you approach the end of the Seder and before you say "Next year in Jerusalem," add a prayer for the health and wellbeing for all of the Jewish people, for all of mankind, for our country and for Israel.
Add a wish that next year, in health and prosperity, we can all celebrate together in Jerusalem. 
One more idea that could be especially useful for those that are having a seder for 1 is as follows:
If you have children or grandchildren ask them to send you letters or in a pinch emails that you print but do not read until the seder. The letters could range from questions on a part of the hagaddah that you could open when you get to that section and at least think about the question and the person who asked it, or questions about Pesach in general that you could read at various times throughout the seder, or just letters like " I miss you Zaydie and wish that we could be together and I look forward to seeing you after yom tov". If they label the email or the letter with one of those categories, you can organize when you open the message during the seder. Obviously this will never replace being with them but it will give you a sense of connection with them.  
Wishing you all a healthy Pesach!