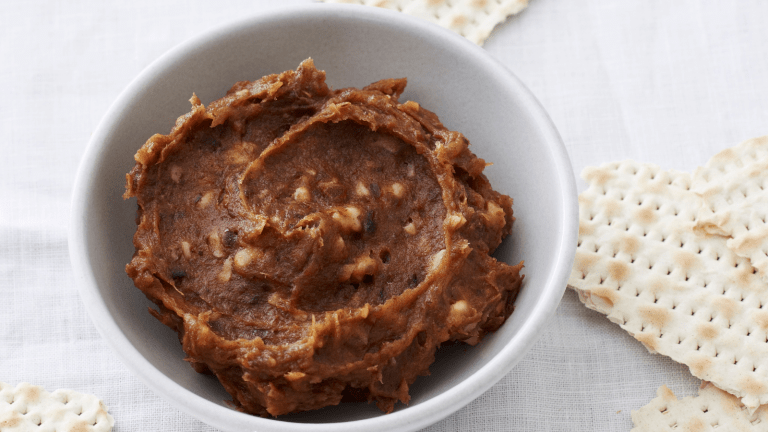 7 Charoset Recipes from Around the World Plus a Few More Just For Fun
Everyone has a favorite and it is actually the most versatile food on the Seder plate and no matter how you make it there is no denying it goes well on a piece of matzo.
We're talking about Charoset!
You can't have a Seder without Charoset, symbolizing the mortar the Jews used when slaves in Egypt.  It is almost like a chutney and is most commonly made by Ashkenazis from a mix of apples, nuts, and wine.  However, every culture has their own recipe and we also have some new and fun twists on the classic.  Time to make a few kinds of charoset to enjoy this Passover. 
Watch our video for 4 ways to make charoset, then scroll down for the recipes.
Syrian Haroset - Victoria Dwek
My father-in-law, a Rav, told me he was once asked, "Why is haroset delicious if it represents such sad things?" He responded, "Every difficulty in life is really sweet—they are blessings from G-d." Every ingredient in the haroset is symbolic of the Jewish labor in Egypt. The walnuts are the pebbles of the bricks. The dates represent the mud, and the wine is the blood of the babies who were used in place of bricks when the quotas weren't filled. As most Sepharadim eat gebrokts, the matzah meal represents the straw, also used to make bricks. This recipe is from my husband's grandmother a"h, Rosa Dwek, from Aleppo, Syria.
Moroccan Charoset Balls - Lauren Dadoun
Moroccan Charoset Balls are the best way to make this Passover staple.  Shape the charoset into balls and place individual servings on each plate. That's what I always remembered in my grandmother's home, and that's what I do today. 
When I first got married, for the first 10 years, my family and I would travel back to Montreal to spend the holiday. When I started making my own Pesach, I called my mother, not knowing what to do or what recipes to use. 
This is my great grandmother's authentic charoset recipe, straight from Casablanca.
Persian Charoset—Haleg - Reyna Simnegar
Persian charoset (Haleg) is fabulous! 
This is my mother-in-law's charoset recipe. I buy already ground walnuts and almonds to make my life easier. I also purchase date paste so I don't have to grind that either. The rest of the ingredients I process together into a wet paste similar in texture to chummus. Charoset spice is made by Sadaf and you can get it online; or simply mix equal parts of cardamom, ginger, and cinnamon. 
Keep haleg refrigerated and if it gets too thick, thin it with grape juice or even sweet wine to give it a grown-up twist!
Ashkenaz Charoset - Etty Deutsch
My sister-in-law's grandmother, of Polish descent, makes the best charoset—it's become somewhat of a legendary recipe for the extended family. When I called her, though, she told me that her recipe was never written down! I recreated this version based on her instructions.
Another Ashkenazi charoset recipe to match the top video is here. 
This Charoset is gooey and fragrant with dried Mediterranean fruit. I like to roll it into walnut-sized balls and dust it with cinnamon and ground almonds.
This one has mango, it's like a chunky Indian chutney to flavor your entire meal. 
7 Fruit Charoset from Surinam - Mrs. Irma Robles Lopes Cardozo Z"L 
Coconut is the base of Surinam charoset; the ingredients reflect the tropical source of this recipe. Originally, Surinam cherries were simmered and added to the fresh fruits. Today, since most cherries available do not have the same taste, cherry jam is used instead. Some families replace one or two of the ingredients with peaches or pineapple. 
Like other Sepharadim, Surinamese Jews wouldn't only make charoset for the seder— they make enough to eat all week long with matzah.
When 800,000 Jews were expelled from Spain in 1492, many took refuge in the newly discovered South America. When the Portugese took control of Brazil, prosecutions began again there, and the Jews who had established successful plantations were forced to move again, this time to Surinam, which was under Dutch rule. The area where they settled became known as "Joden Savanne." When the British colonial government took over, the Jewish community enjoyed additional freedoms and the community flourished. When it switched back to Dutch rule, these freedoms went undisturbed. Though the community now numbers only a few hundred individuals, it is the oldest Jewish community in the Americas.
Here are more Charoset recipes from Ronnie Fein that really go crazy - Old World Charosis Gets a Hip Makeover including her NO NUT charoset which is helpful for those with nut allergies. 
And if you end up with leftover charoset here are several RECIPES USING CHAROSET
CHAROSET STUFFED CHICKEN BREAST
The charoset flavors the inside of chicken breast for a simply delicious, easy dinner. 
You can serve charoset in mini pies or use your leftovers with a homemade or store-bought Passover crust. 
Charoset can be turned into salad too!