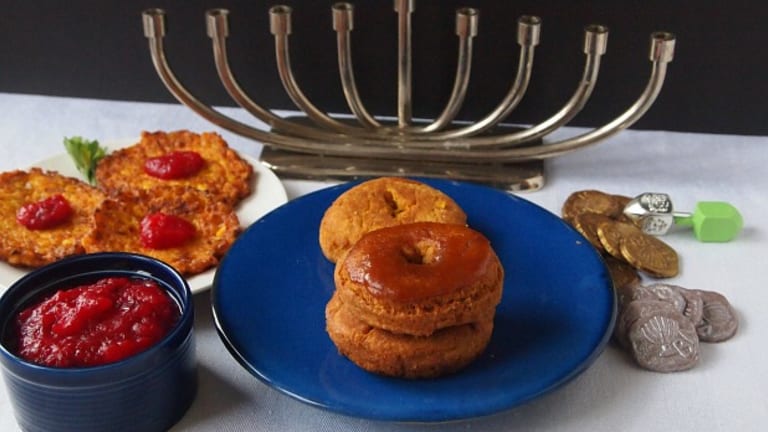 Pumpkin Hanukkah Recipes
I love Pumpkin! It is one of the most versatile ingredients in my pantry and is a staple in my home. I use pumpkin in many recipes including: soups, risotto, breads, stews, ravioli filling, pie, and more.
One of the few canned foods I use is canned pumpkin puree. Canned pumpkin puree is a nutrient dense food. It is high in vitamins and antioxidants. To achieve the creaminess of canned pumpkin puree it would take hours and many pounds of pumpkin to result in several cups of puree. So now you know the secrets of this restaurant chef.
This year with Hanukkah coming right on the heels of Thanksgiving it is time to infuse the flavors of pumpkin into my classically Hanukkah creations.  Let's start with latkes.  
Pumpkin Latkes with Cranberry Apple Sauce
I love the bright orange color of these latkes.  I add grated pumpkin and pumpkin puree to a potato base to create the best combination of flavor and texture. Without the potato latke base, grated pumpkin would burn as the sugar content is too high with just pumpkin. 
Curried Coriander Pumpkin Latkes
If you want something a little more savory try adding some curry powder.
Pumpkin Donuts with Maple Cinnamon Glaze
Onto even sweeter things, try my doughnuts.  Keep in mind these are dairy, but Hanukkah is a dairy lovers holiday. 
I hope you enjoy my Pumpkin recipes, here are a few other pumpkin related recipes you may enjoy. 
Try this 1 Hour Shabbat menu featuring Pumpkin Polenta. 
The pumpkin gives extra creaminess to this polenta and topped with fried sage brings it to another level. 
This is another recipe where you can use pumpkin or other squash. 
Because every Jewish holiday needs its own challah recipe. 
Great for a Hanukkah brunch.