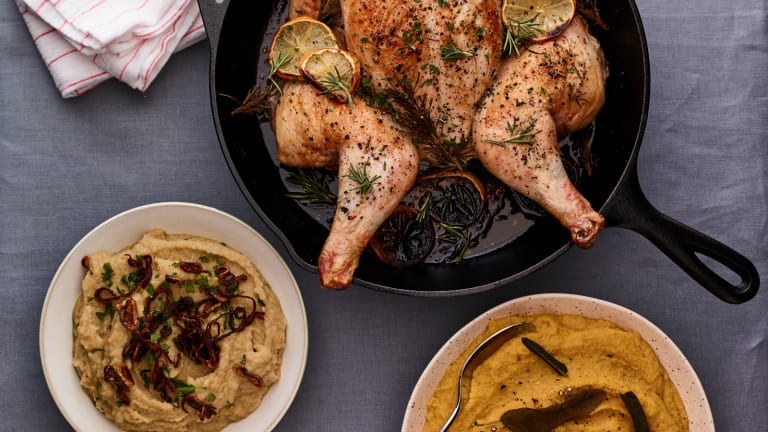 One Hour Chanukah Shabbat Menu
On this Shabbat, coinciding with Hanukkah, we are going to fill you up with a great latke recipe and lots of extra virgin olive oil that is sure to get everyone to eat their veggies. I guarantee no one will go hungry this week!
The best part is you can make all these dishes in 1 hour!  Truthfully you can only make the main meal, the chicken polenta and parsnip puree in 1 hour, it is a bit more ambitious to make latkes and donuts too.  But we couldn't resist adding them to this menu, so if you really want to get this done in 1 hour it is best to prep all the ingredients ahead and follow this game plan.
Prep everything for this menu the night before as follows. 
Grate the Winter squash and onion for the latkes and store in a ziplock black.
Spatchcock the chicken (here's a how-to guide), pat dry and season with salt and pepper, store uncovered in the fridge, remove from fridge 1 hour before cooking.  
Peel and chop parsnips and shallots. Keep in separate bags or containers in the fridge.
Mix doughnut batter and store in fridge.  
When ready to start cooking work as follows. 
Preheat oven to 375°F. for the chicken. Place cast-iron skillet over high heat on the stove and follow chicken recipe instructions. Once the chicken is in the oven move on to the parsnips. 
Place parsnips in the oven per instructions. 
Prepare polenta, while it's cooking mix up the squash latkes, set polenta aside or keep warm. 
Finish off parsnips per instructions on stove top and keep warm. 
Fry doughnuts and then fry the latkes. 
This is a lot of food, feel free to adapt to your needs.  
Instead of the expected potato latkes, try these squash latkes using your favorite winter squash and frying in extra virgin olive oil. 
SPATCHCOCKED CHICKEN WITH ROSEMARY AND LEMON
If you haven't yet mastered spatchcocking you can feel free to make this with a regular whole chicken or even chicken pieces, but a spatchcoked chicken cooks the most even and will yield the best results. 
Ever tried adding pumpkin to polenta? It gives an incredible creaminess and bonus health benefits. 
Parsnips have a unique flavor profile that is almost bitter sweet.  
Try these easy Moroccan doughnuts, the batter can be made the day before and then all yo have to do is fry. If you prefer a more classic doughnuts like our VEGAN VANILLA BEAN DONUT, you can prep ahead and shape the doughnuts and leave those in the fridge overnight, leave at room temp before frying for about 1 hour. 
We have to end our Chanukah meal with donuts!!!