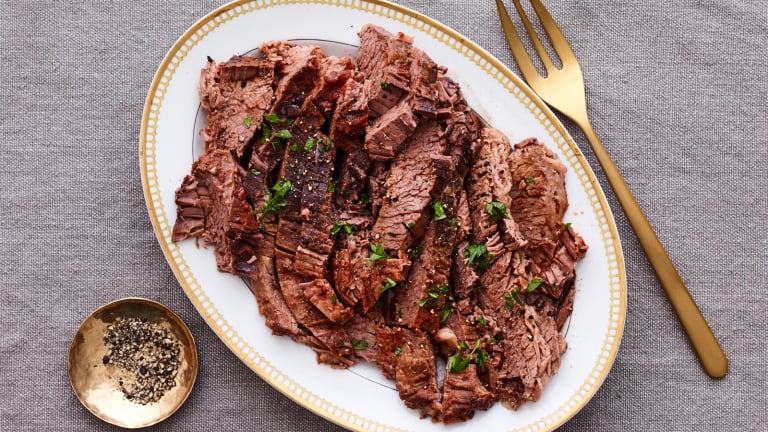 Shabbat Menu Worth Waiting For
This week the boundaries of the Holy Land are established and the Children of Israel stand on the edge of the Jordan River. Reuven, Gad and ultimately half of Menasseh petition for land east of the Jordan River — prime grazing land — as their inheritance.  There must be something remarkable about this pastureland to lead the tribes to forsake the Holy Land.  I will not speculate, but if you've ever tried grass-fed meat you might begin to understand their choice.  The years of wandering are nearing an end and the land beckons.  The waiting is the hardest part.  A highlight of our Shabbat menu this week is our Overnight Brisket — it does not require a lot of work, just time.  I promise the wait is worth it.
The Weekly Challah
Start this Summer meal with a dressed up Caesar, the addition of fennel is perfect with the flavors of a classic Caesar, don't worry, we left out the Parmesan cheese, feel free to use Nutritional yeast if you want a dairy free cheese like addition. 
This brisket is one of our best. Sure it cooks overnight and it does mean the oven is on for an extended time in the Summer, but it is during the coolest part of the day. On Friday morning you will wake up to the smell of Shabbat.  All you need to do on Friday is slice and store until ready to heat and it just gets better with reheating. 
Broccoli Rabe with Raisins and Pine Nuts
Try this hearty green side for something bright and green and delicious. 
Potato Salad with Tahini Dressing
Serve a nice potato salad on the side, you will love the tahini dressing. 
Non Dairy Cream Filled Cannoli
For dessert we love these cannoli like desserts, easy when you can find the prepared cones to simply fill.